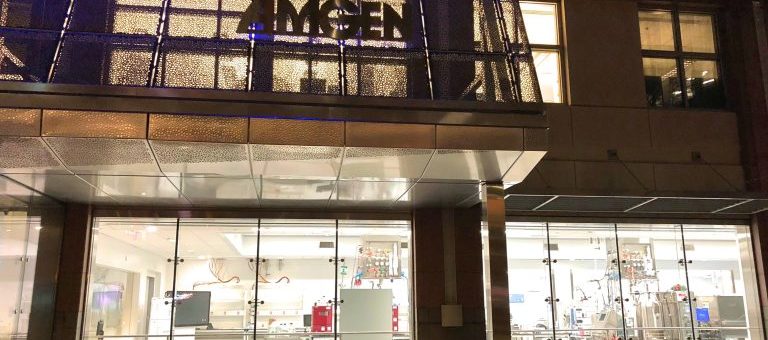 Posted by ISPE Boston
On December 15, 2017
By Bill Garvey and Howard Sneider:
Single-use technology has exploded onto the scene in the last two decades to offer a practical alternative to costly stainless steel process systems. But will single-use systems render a mature and reliable technology eventually obsolete? This outcome is unlikely as a large group of ISPE members and other industry professionals learned at the educational program hosted at the Amgen facility in Kendall Square on December 7th.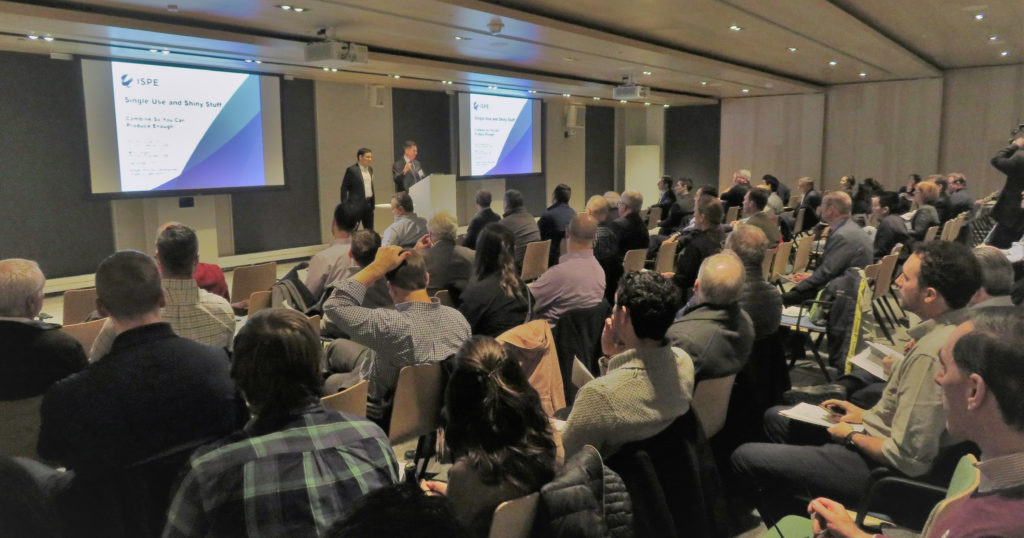 The program was appropriately named, "Single Use & Shiny Stuff, Combine So You Can Produce Enough." Program attendees were privileged to learn more about the advantages of both individual and hybrid single-use and traditional stainless systems from two experienced industry professionals: Rob Boulanger and Mihir Sanghvi, employees of Clark Richardson & Biskup (CRB), a prominent engineering services company serving the bioprocess industry for over forty years.
Mr. Boulanger spoke first on the importance and requirements of process closure. Proper needs identification and risk assessments can provide assurance that the process has the right level of closure. One of the important messages is that if a process is closed it doesn't benefit from the cleanliness of an outside environment. Also important is the distinction between closure and sterility. Mr. Boulanger followed with a discussion of good stainless steel practices, with an emphasis on CIP, SIP and maintaining the processing environment.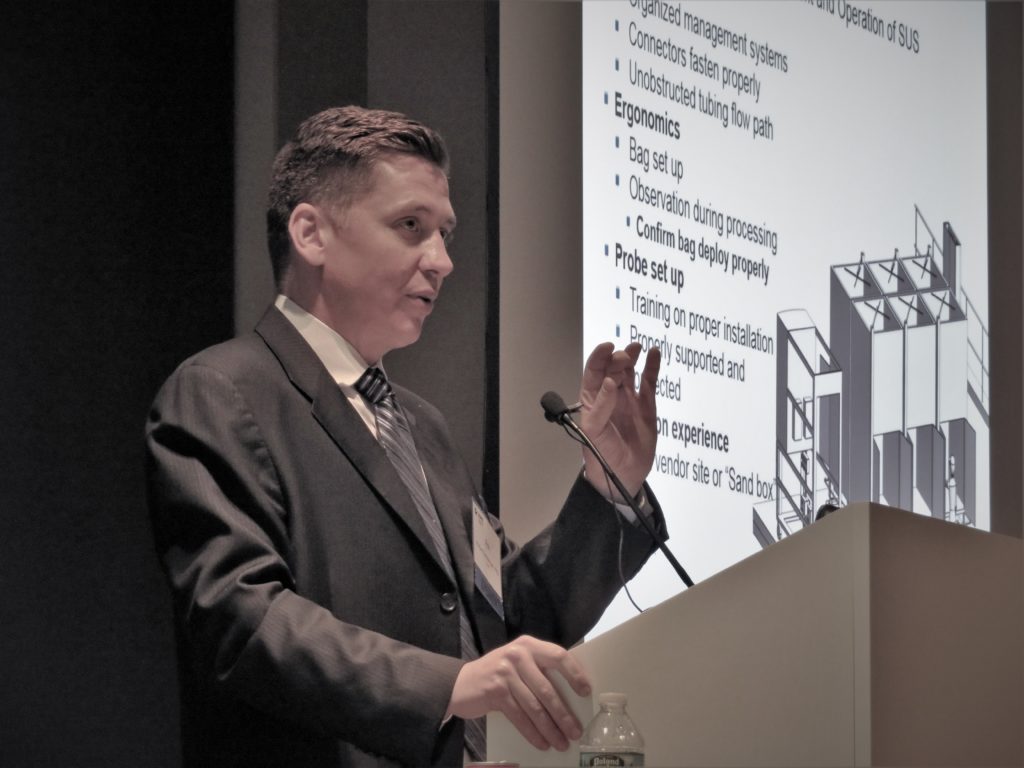 After reviewing the basics of CIP and SIP, several photos from a facility audit were shared which showed potential pitfalls of a poorly controlled stainless facility. Lapses in CIP effectiveness, SIP condensate management and proper sloping resulted in process and equipment failures. For example, a correctly functioning trap is fundamental to sterility assurance, and improper trap design, position or maintenance may lead to validation failures and contaminated cultures.
Mr. Boulanger also explained that steam trap location relative to RTD (resistance temperature detector) placement should be carefully considered. Improper RTD position may result in prolonged vessel heatup and stabilization time before the SIP cycle will advance to the dwell phase.  A delay to reach dwell could require higher sterilization temperature and pressure, an unwanted combination that could shorten equipment life, increase utility costs and damage polymer O-rings used to seal Tri-clover joints.
Mr. Boulanger continued his discussion on the advantages that single-use systems can offer. Single-use products may be delivered pre-sterilized from the vendor, so time consuming steam-in-place (SIP) operations can be passed on to the single-use system supplier. Mr. Boulanger identified that single-use systems are not without limitations. They often are scale-limited, have difficulty with heat transfer, limited in high density solution hold, have increased warehousing and disposal costs, and can suffer from long lead times due to customization. The layout of the systems in the facility must consider disposable tubing and the positioning of equipment must also consider ergonomic needs.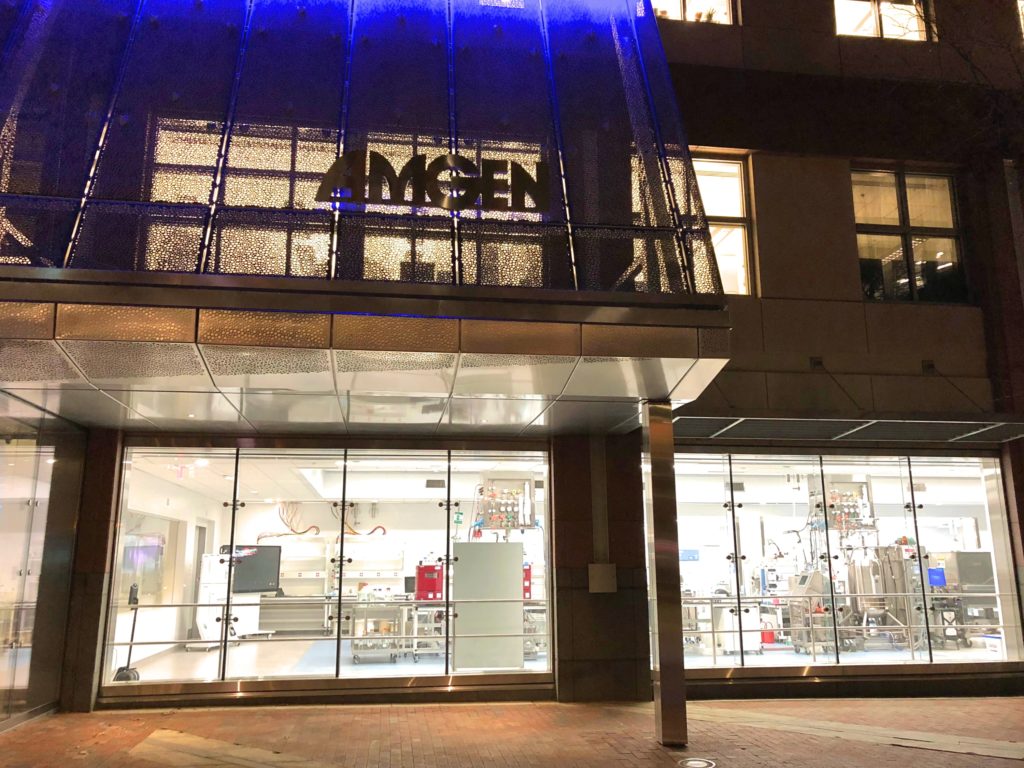 Mr. Sanghvi followed Mr. Boulanger and provided an excellent introduction to the comparative economics of single-use and stainless steel systems. According to Mr. Sanghvi, there are hidden costs that must be identified and considered before a single-use technology is chosen. Mr. Sanghvi's detailed analysis showed that single-use initial costs are frequently much lower than stainless systems, but the total cost of ownership trajectories usually intersect within two to five years. Mr. Sanghvi emphasized that corporate decision makers must carefully evaluate many factors before deciding which technology will provide the best commercial result at the lowest possible cost.
Mr. Sanghvi also provided critical insight into a key element often overlooked: companies that use single-use technology are now exposed to the production schedules and material availability of their single-use vendors. Unexpected bottlenecks and delays can occur at component subcontractors and these can delay scheduled single-use delivery despite a vendor's assurance during negotiations that materials will be delivered when promised. Mr. Sanghvi also indicated that product titers are increasing but a single-use system may never replace the production capacity of a 20K liter stainless steel bioreactor.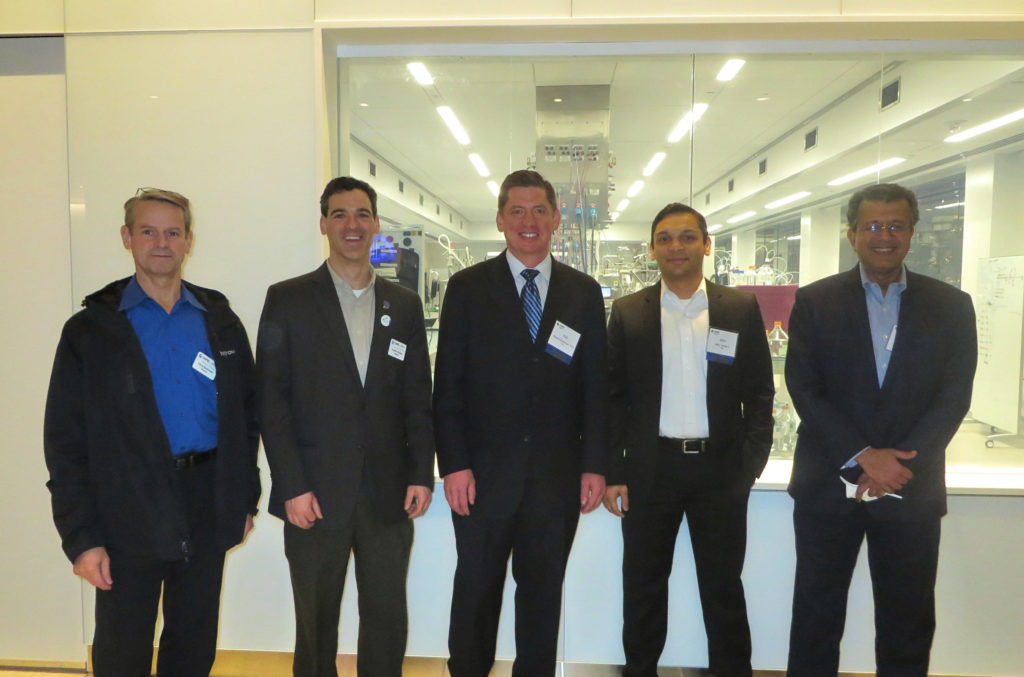 No reasonable person can forecast where the bioprocess industry will be in twenty or thirty years. Will single-use technology dominate, forcing stainless steel systems out of favor as inefficient and costly? The analyses and evaluations provided by Mr.'s Boulanger and Sanghvi are timely, common-sense and essential.  Expensive biopharmaceutical processes can take years to develop and implement. No matter how well planned, the eventual outcome (i.e. a complex protein, enzyme or antibody) comes with no guarantee of success. Choosing the right technology early – single-use, stainless or a combination – is a critical decision only recognized as correct many years later.
We thank both Mr. Boulanger and Mr. Sanghvi for their advice, knowledge and insight, because an informed decision is essential for production planning, cost control, and most importantly product quality, safety and profitability. We would also like to thank Amgen for graciously hosting our event.