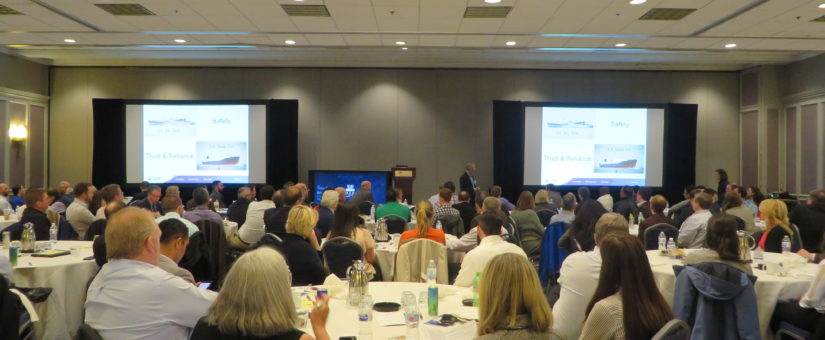 Posted by Jesse McLaughlin
On April 18, 2019
From his experience with a tragic, shipboard accident while at Mass Maritime Academy, to his recent project successes on the buildout at Pfizer in Andover, Gil Stevens, Senior Director of Engineering at Pfizer, opened the Chapter's half-day Spring Conference with lessons learned about the culture of exceptional project management and set the tone for a great day of learning among Boston area pharmaceutical engineering industry professionals. Gil shared some great insight into what he and his team saw as the main reasons for their project success and capped it off with a fun exercise that had the whole room sharing best practices.
Something I couldn't help but write down was: "There is NO reason to hold on to a problem. You have help." While Gil was sharing this in reference to his recent experience at Pfizer, it stuck out as a big lesson we, as ISPE members, should remember. One of the primary benefits we have as a group is access to an unbelievable amount of experience and knowledge within our network. Thank you to Gil Stevens for sharing this with our group.
The 110 people in attendance at this year's inaugural Spring Conference were treated to a great day of education on the culture of exceptional project management. Wisdom and experience were shared from people across the spectrum of operating companies to engineering consultants and from IT to R&D.
After attending a luncheon capped by Gil's keynote address, we were able to attend two back-to-back educational sessions, each with three tracks to choose from:
Alignment of Project Management with Organizational Culture
Strategies & Tactics for Exceptional Project Management
Tools & Techniques for Effective Project Management
Project management is an integral part of everyday life in our industry. The experiences shared through these sessions will help us deliver projects successfully all over New England and continue to lead the rest of the world as our industry grows. There is so much to do and, as Joyce Chiu said during her presentation, "Plans are nothing, planning is everything."
The conference concluded with an afternoon networking reception and Chapter awards ceremony recognizing outstanding volunteer efforts during 2018. The award for Distinguished Volunteer of the Year – newly named for veteran Chapter volunteer Janet Tice – was presented to Caren Jenkins for launching the Chapter's new website and Stacy Price for developing the Chapter's mentoring program. The award for Outstanding Achievement went to Product Show Committee Co-Chairs Tom Struble and Jesse McLaughlin for leading their team to new heights in 2018.
Lastly, the Chapter's highest honor – the Hank Moes Award – was presented to Chapter Past President John Spohn whose eloquent acceptance speech spoke glowingly of the benefits of volunteering – both for the Chapter and for its volunteers.
This outstanding event would not have been possible without two groups: our volunteers and our sponsors. We would like to thank our presenters for sharing their project management experience and expertise with attendees; and our Educational Program Committee – with special thanks to Co-Chairs Janelle Carretero and Howard Sneider – for scoring another successful "first" for the Chapter.
And thank you to our sponsors and exhibitors: ABEC, ACV Enviro, DPS, e2i, ICQ, Rovisys, Superior Controls and Wise Construction. Your support makes all the difference!
We hope to see you at the 2nd Annual Spring Conference in 2020. We're already looking forward to it and hope you are too!