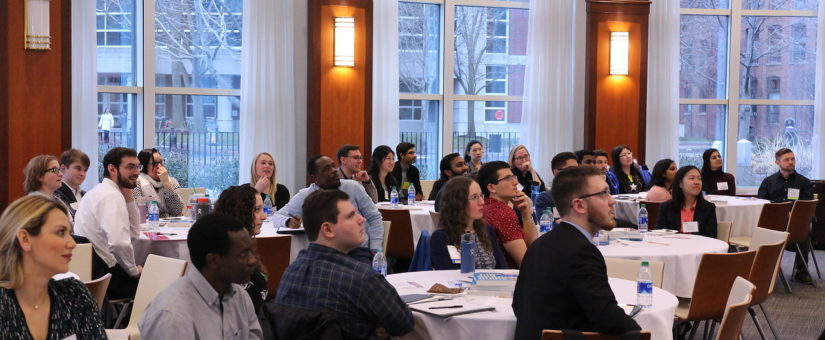 Student Career Workshop Wins High Praise from Attendees
Posted by Rob Crory
On February 4, 2020
"I've never received such useful advice about my career before. I came to the event last year but I still learned so many new ideas and tips this year," says Megha Shah, a Chemical Engineering Student from UMass Amherst. Megha was one of the many students and young professionals who attended the Student Career Workshop at Northeastern on Saturday, January 25. The event, sponsored by the Boston Area Chapter Student Development Committee, was the 8th annual and is held each year at the beginning of the spring semester.
10 am on a Saturday can be a sacred time for a hard-working student, so it says a lot about the men and women who filled the seats that morning, eager to learn, better themselves and build new relationships. It also says a lot about the workshop itself.  Reflecting on feedback from the day, Brain Hagopian said "The comment that impressed me the most came from Ryan Mudawar, Senior Director of Academic and Workforce Programs at the Mass Life Sciences Center who told me 'Nobody runs a program for students like ISPE does – this is the best program I've ever seen.' "
Brian played the role of emcee throughout the event and right from the opening his energetic enthusiasm captured attention and set the tone for the day. Brian is a Student Development Committee volunteer and has been organizing the event for the past eight years. "The day is just so fun and energizing for me. I'm guessing you could tell how much fun I was having throughout the day. I've watched this event build every year and the speakers and presentations just keep getting better and better."
The presentations absolutely delivered. Lauren Celano, April Blodgett, Dave Novak, Caren Jenkins, Caroline Rufo, Carly Cox, Kyllan Allwyn, Ryan Mudawar, Mike DeGirolamo, Brian Hagopian and Student Development Committee Chair George West all came prepared with informative, advice-packed presentations on different aspects and opportunities for starting and growing a career in the industry. Students, soon to begin their careers, were walked through building a winning resume, learning how to translate their unique skills to fit job descriptions, making positive first impressions, all the way to nailing the interview and landing that amazing position. Other presentations gave helpful guidance on developing soft skills, networking, owning your personal brand and goal setting.
The day was far from being just lectures. Students were put into situations where they had to put the networking and relationship building tips into action. Getting up from their seats and meeting new people during exercises where they had to learn about someone else, share information about themselves and make a connection reinforced the lessons of the day. From the noise level in the room it was easy to see that the students were fully engaged applying their new skills. As Megha put it "…this is the best way of connecting – not only with people in the industry but also fellow students who are pursuing similar paths as mine. It's interesting how much I learned from them as well… I'm really grateful to ISPE for organizing this event for students like me. I also want to thank the speakers who spent their valuable time helping us pave the way to our future."
Brian, George and all the presenters who worked so hard to make the Career Workshop a success are a great example of how positive an impact organization like ISPE can have. It was very impressive, as was the caliber of young men and women in attendance who have bright careers ahead of them and are now armed with a little more knowledge and confidence about how to navigate the job market.
The Student Development Committee is always open to ideas on how to scale up this event while still being able to accommodate the interpersonal interaction among the attendees. If you have any suggestions please feel free to reach out.