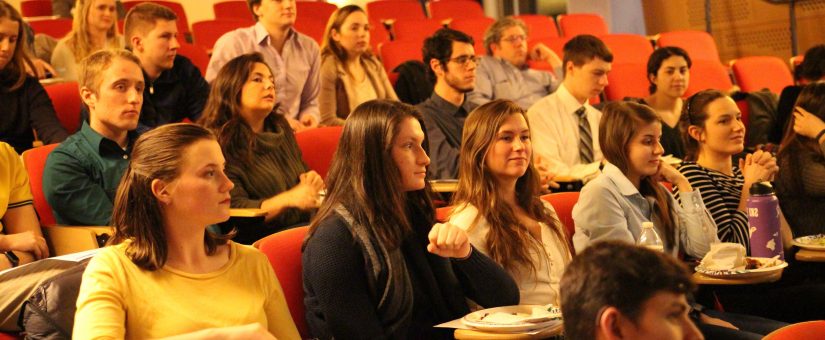 Posted by Brian Hagopian
On April 2, 2018
Students were so energized after attending the Annual Career Workshop that they brought that energy back to their campuses in a big way and organized several on-campus events to promote ISPE and sign up new members.  Through the Career Workshop and these on-campus efforts, the Chapter has increased student membership by at least 50 students since January!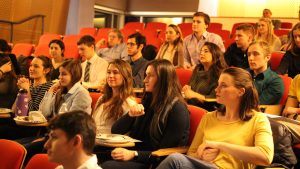 The University of New Hampshire Student Chapter hosted a "Careers in Life Sciences" panel discussion moderated by Brian Hagopian.  The UNH Student Chapter organized the event while ISPE provided dinner for everyone who attended.  The panel discussion featured UNH alumni Nicholas Cook from Barry Wehmiller Design Group, Halie White from Superior Controls, Chris Ciampa from Thermo Fisher Scientific, and Lance Weed from Lance Weed Consulting.  Each panelist talked about their career paths and how professional societies like ISPE have helped them as they progressed in their careers.  Over 40 students attended and participated in a lively question and answer discussion, which continued long after the program ended.  Special thanks to Katherine Lawson for all the extra time she put in to help organize this event.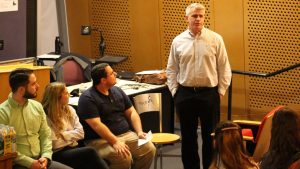 The MCPHS University Student Chapter hosted a "Networking, Resume Building and Careers" panel discussion featuring Career Advisor Jan Vanselow, Ben Crewdson from M+W Group, Chris Ciampa from Thermo Fisher Scientific, Neal Kharwala from Shire and Brian Hagopian from Clear Water Consulting.  The event was organized by the students with ISPE providing dinner, drinks and dessert for attendees.  Held on the 6th floor of Griffin Hall, students were treated to an interactive session with a great view of the Boston skyline.  Special thanks to students Divyanka Gupta and Kanika Patel for their active involvement in building interest in ISPE and pushing their fellow students to engage.  At this event, about half of the non-members in attendance joined ISPE on the spot!
Thanks to Jan Vanselow, the Chapter participated in a Biomedical Engineering Society Career Night at Wentworth Institute of Technology in an effort to build interest in forming a brand new Student Chapter there.  Wentworth alumni John Masiello from MASY BioServices and Steve Carbonneau from The Richmond Group helped to spread the word about all the great things that ISPE has to offer students.  A super-special thank you to Steve who offered to underwrite the cost for any Wentworth student who filled out an application to join ISPE that evening.
Last but not least, thanks to the efforts of Alyssa Pierne and Lauren Fontana, The University of Connecticut Student Chapter hosted an on-campus "Resume Review Workshop" at the end of March. Again, true to form, ISPE treated attendees to a buffet of chinese food, drinks, and dessert as Brian Hagopian provided some lively discussion on the benefits of belonging to ISPE and tips to improving the message delivered to prospective employers by your resume. Undergraduate students from several majors and graduate students from the Pharmaceutical Sciences program attended, showing that the breadth of ISPE's reach is increasing on campus.
Many thanks to the student organizers and the many presenters who told their stories and extolled the value of ISPE membership. Their combined efforts served to spread the ISPE "gospel" far and wide. And a warm ISPE welcome to all our new Student Members!