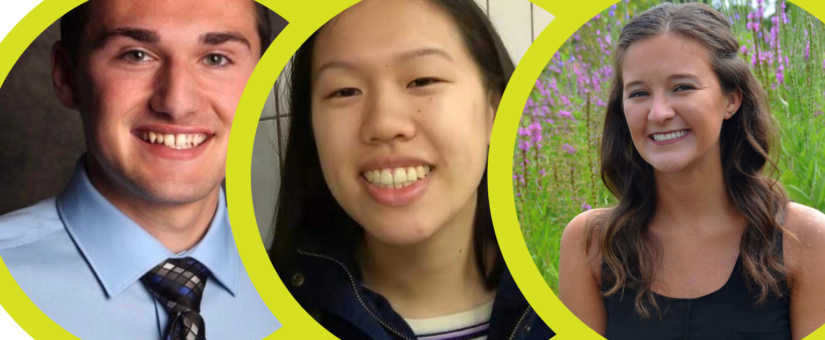 Thoughts on Careers in Biopharm (and More) from Our Scholarship Winners
Posted by ISPE Boston
On August 27, 2020
Congratulations to 2020 Joel Goldenberg Memorial Scholarship winners Maggie Cai, Mark DeSimone and Emma Sinkus, all of whom are planning careers in our industry and excel in both academics and service to the community. We asked them to share their thoughts about winning the scholarships, their future career plans, our industry and the pandemic:
Maggie Cai, Northeastern University, Chemical Engineering and Biochemistry:
"Being awarded this scholarship will have a huge impact on my upcoming school year and educational goals…since I won't have to worry about working during the school year to help pay for college. This scholarship will allow me to focus on my academics, rather than paying off my tuition. I'm extremely grateful to ISPE for sponsoring this scholarship.
"In the future, I plan to work in biologics research and development. Protein research is something I've been really interested in since I started college. I'm currently on co-op, helping to analyze monoclonal antibody therapies. I believe that biologic drugs can be used as therapies for many different immune system-related disorders. I plan to continue to work in this field and develop protein-based treatments to improve patient outcomes.
"To other people entering biotech right now, I would tell them to remember that crisis situations don't last forever. Biotech plays a vital role in improving people's health, and that will always be a goal to work toward. Currently, biotech is the main industry which can make what is truly needed now: a vaccine for COVID-19. The biotech industry has the ability to develop COVID-19 treatments and a vaccine to help bring the world out of a pandemic. This industry protects people's health and improves lives, and that is always something worth doing."
Mark DeSimone, UMass Dartmouth, Biomedical Engineering and Biotechnology:
"As a two-time recipient, the Joel Goldenberg Memorial Scholarship has helped me finance both my undergraduate and graduate degrees at UMass Dartmouth. The scholarships greatly reduced the financial burden of pursuing my higher education and allowed me to focus on my studies and extracurriculars on campus.
"My future career plans after obtaining my master's degree in Biomedical Engineering and Biotechnology are to start a career in the biotech industry as a research and development engineer. I am passionate about the seemingly endless possibilities of biotech research and its applications and this advanced degree will give me the opportunity to gain extensive knowledge of current biotechnological processes that will jump-start my future career.
"During these challenging times, biotech-related fields have been thrust into the public spotlight. As a word of encouragement for others entering this industry, now more than ever there is the potential to develop lifesaving solutions and the ability to improve the lives of people around the world."
Emma Sinkus, Tufts University, Engineering Management:
"I am honored to have won the Joel Goldenberg Memorial Scholarship which will help immensely in my career development and accomplishing my educational goals. This master's degree program at Tufts University will not only provide me with relevant business expertise, but will also allow me to leverage my technical background to prepare for an impactful career in biotech leadership.
"These challenging times have strained resources and highlighted a need for novel practices and innovative leaders to emerge with new strategies. I want to be one of those leaders. This program will enhance my technical depth for innovation, provide the skills to be a resourceful and adaptable leader, and prepare me to confidently and effectively take on challenges in a rapidly changing and expanding industry. It is my hope to use the skills and knowledge I will acquire through this educational experience to grow as an engineer who can drive performance improvements and develop strategic solutions for my company and the biotech world. I am grateful to the ISPE Boston Chapter for helping me reach these goals."
For more information about the Scholarship Foundation, to make a donation to or submit an online scholarship application, visit www.ispebcsf.org or contact the Foundation office via email at office@ispebcsf.org or by phone at (781) 327-5121.