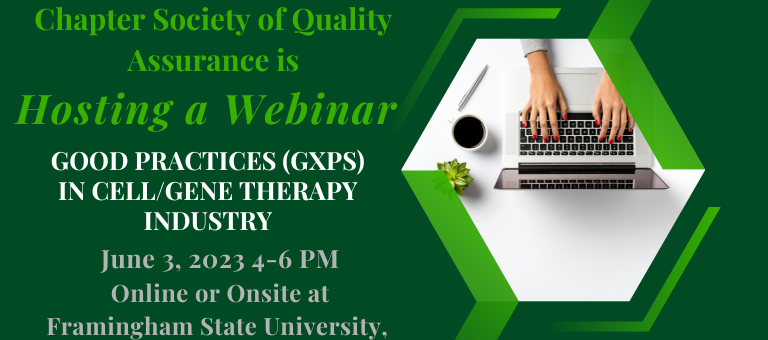 Upcoming Webinar: Challenges and Solutions for GxPs in Cell/Gene Therapy Product Development, June 3rd 4-6PM
Posted by ISPE Boston
On May 18, 2023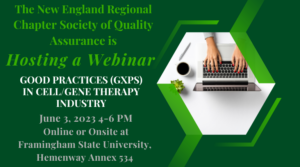 Framingham State University and MassBay Community College are presenting a panel discussion with leaders from the New England Regional Chapter Society of Quality Assurance to discuss the current challenges and solutions for various Good Practices (GxPs) in the Cell/Gene Therapy industry, on June 3rd (Saturday) from 4 to 6 pm EST.  The event will be held onsite in Hemenway Annex 534 at Framingham State University.  Participants also can choose to attend online via a Zoom invitation, after free registration.
During this panel discussion, you will learn about the current quality and compliance challenges or uniqueness facing the biopharmaceutical industry for R&D, bio-manufacturing, nonclinical sciences, and clinical studies in cell/gene therapy product development.  Panelists will also discuss distinctiveness and potential solutions for some of the challenges.  Examples are as follow:
Challenges For GLP

Is it GLP or not?

Test Article Characterization


Challenges for GMP

100% custom-on demand manufacturing in autologous cell/gene therapy

Little control on starting donor materials

Uniqueness of GCP

Quality Risk Management

Product Management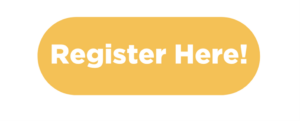 Speakers:
Edward Armstrong, Vice President, Quality/Head of Quality for Mustang Bio
Bernadette Brown, Associate Director, Mustang Bio 
Danielle DeOssie, Senior Manager, GLP Operation QA, Vertex Pharmaceuticals
Robert Dionne, Associate Director, Quality Assurance, Mustang Bio
Melissa Jensik, Director, Quality Assurance, Eidos Therapeutics
Malena Maier, Associate Director, Vertex Pharmaceuticals
Judyth Zahora, Senior Director, Agenus
Moderators:
Maryse Constant,  Director, Regulatory Affairs And Quality Assurance, AliMedMember
Sunny Tam, PhD, Director, PSM in Biotechnology, Framingham State University; Affiliate, Clark University Chemistry Department; Clark University BS in Biotechnology Advisory Board Member
Comment below if you plan to attend this webinar, or share with a friend who would be interested in this topic!