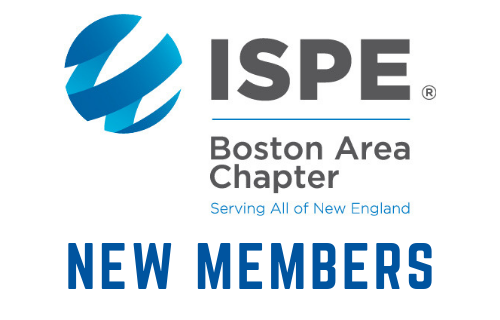 Posted by ISPE Boston
On June 4, 2018
We would like to introduce the members who joined ISPE in May 2018, welcome them to the Chapter and encourage them (and all of our members) to take advantage of the many professional development, networking and information resources available through ISPE. Fellow ISPE members are a terrific resource for help with everyday professional challenges.  And the ISPE Membership Directory  is a great way to connect with fellow ISPE members. We encourage all members, current and new, to get involved with the Chapter's many committees, educational programs and social activities. Visit our website for more information and don't forget to subscribe to our blog for up-to-date information on our industry, Chapter activities and much more. And to all of our members, we value your input, so please email us at office@ispeboston.org with your feedback and questions. We look forward to hearing from you.
Sean Ballou, BS Biology, AMRI Global
Lauren Constance Barnatt, B.S., Sanofi
Isabella Grace D'Alfonso
William Dolan, Shire
Iijeoma Emenike, NIBR
Constantina Gallos, BS, MBA
Kimberly Hocknell, LFB USA, Inc.
Ryan Holder, Lonza Biologics Inc
Katerine Kibitkin, Thermo Fisher Scientific
Zachary Meisel, Framingham State University
Andrew Morbey, BSC, LSNE
Tyler Morin, CRB
Neil R. Morrison, BioVectra Inc
Jerry Murphy, BS ChE, MBA, ProPharma Group
Juliana Muscat, Novartis Pharma AG
ASHISH C. PATEL, Emergent BioSolutions, Inc.
Nader Riad, Amgen
Jane Roman, MS, MBA, Amgen Inc
Julie Scott, BS, Rhodes Technologies
Shruti Shah, DPS Engineering
Derek Smith, Northeastern University
Matthew Stauffer, Tufts University
Sylvia Talbott, IPS
Prabhakar Veeravelli, Shire
Ryan Williams, BArch, DPS Engineering