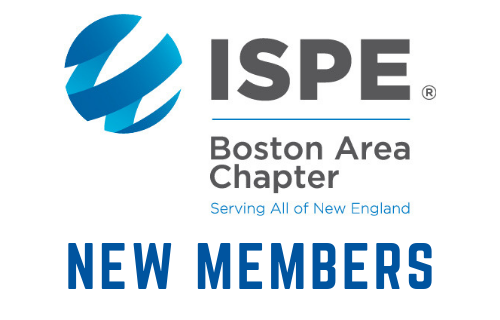 Posted by ISPE Boston
On August 6, 2018
We would like to introduce the members who joined ISPE in July 2018, welcome them to the Chapter and encourage them (and all of our members) to take advantage of the many professional development, networking and information resources available through ISPE. Fellow ISPE members are a terrific resource for help with everyday professional challenges.  And the ISPE Membership Directory  is a great way to connect with fellow ISPE members. We encourage all members, current and new, to get involved with the Chapter's many committees, educational programs and social activities. Visit our website for more information and don't forget to subscribe to our blog for up-to-date information on our industry, Chapter activities and much more. And to all of our members, we value your input, so please email us at office@ispeboston.org with your feedback and questions. We look forward to hearing from you.
Peter Adams, Sanofi Genzyme
Manasi Alve
Brian Belzil, Brammer Bio
Brandon C. Bestwina, Azzur Group
Brad Bouchard, Sanofi
Chris Brennan, Azzur Group
Alyssa L. Bychowsky, Alexion Pharmaceuticals
Michael Call, Bristol-Myers Squibb
Misty Carlisle, Sarepta
David Debo, IMA Life
Aideen Doneski, Gleeson Powers, Inc.
Elizabeth Doucakis, CRC Consulting Inc
Amy Gilooly
Fran Harrison, SMRT – Architects and Engineers
Connor Hayes
Scott Hemphill, UniQure
Robert Herrmann, GE Healthcare
James Dean Jackson, Regeneron Pharmaceuticals, Inc.
Niranjan Kodgule, Alkermes, Inc
Lisa Marrone, Town of Chelmsford
Manahil Naqvi, Silk Therapeutics, Inc.
Kimberly A. Remillard, Thermo Fisher Scientific
Gregory Nicholas Riehle, Longbridge Solutions, INC
Miss Lisa J. Rising, Pfizer
William Savage, DPS Group
Ram C. Subedi, Azzur Group
Stefan Tropsa, IPSEN Bio Science Inc.
Ada Vernet Crua, Northeastern University
Sanjay Vyas, PAREXEL
Sneha Vyas, Pall Life Sciences