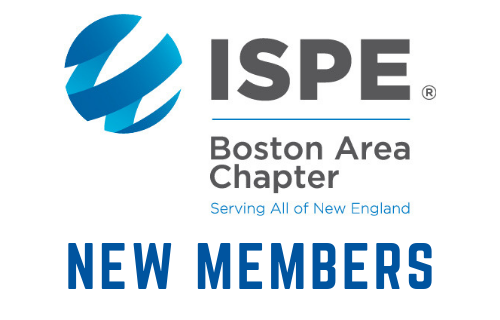 Posted by ISPE Boston
On October 9, 2018
We would like to introduce the members who joined ISPE in September 2018, welcome them to the Chapter and encourage them (and all of our members) to take advantage of the many professional development, networking and information resources available through ISPE. Fellow ISPE members are a terrific resource for help with everyday professional challenges. And the ISPE Membership Directory is a great way to connect with fellow ISPE members. We encourage all members, current and new, to get involved with the Chapter's many committees, educational programs and social activities. Visit our website for more information and don't forget to subscribe to our blog for up-to-date information on our industry, Chapter activities and much more. And to all of our members, we value your input, so please email us at office@ispeboston.org with your feedback and questions. We look forward to hearing from you.
William W. Aho, DPS Engineering
Dezyre Akins, UMass Amherst
Hjordis Armstrong, Fluid Air Inc
Matthew Auger, Innovique
Amy C. Bergeron, Alnylam Pharmaceuticals
Cheryl Boehler, Finch Therapeutics
Jacob Cardinal, Voyager Therapeutics
Bryan Chua, University of Massachusetts Amherst
Mary Decareau
Brianna Fuchs
Alycia Jean Fulton, BlueBird Bio
Wentana Ghile
Abhishek Gupta, University of New Hampshire
Christopher Edward Hill, Sr., Harry Godsky Co, Inc
Christopher Martin Jablonka, University of Connecticut
Brian Johnson, Bristol Myers Squibb
David Krantz, Bioverativ
Tim Lane
John Machulski, Sanofi
Collin Kenneth Maley
Mathew Francesco Medeiros, Framingham State University
Craig Montgomery, E2i, Inc.
Kaleb J. Moore, Novo Nordisk US Bio Production Inc.
Sarah Muse, CRB
Kelly Perry, Vertex Pharmaceuticals
Brian D. Plouffe, Regis College
Denise Renalds
Chris Riordan, Endress + Hauser
Nicole Rivera, Delta Project Management
Emma J. Roberge, University of New Hampshire
Jennifer Santucci, G Greene Construction Inc.
Gary L. Sawtelle, MilliporeSigma-Jaffrey
Katherine Shannon, Brammer Bio
Zachary Smith, UniQure Inc.
Johanna Steele, Neomatrix, Inc
Siera J. Talbott, Erytech
Tracey A. Tamas, Middlesex Community College
Ian Taylor
Heath Tilley, East Carolina University
Jane Trullo
Amy Wong, BWT Pharma & Biotech Inc.