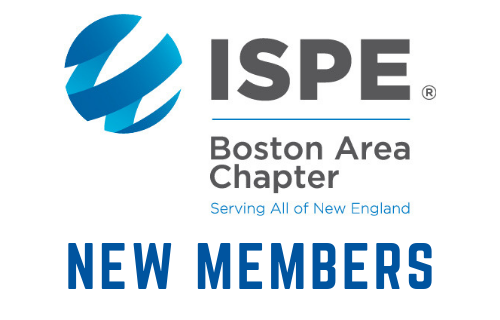 Posted by ISPE Boston
On April 5, 2019
We would like to introduce the Members who joined ISPE in March 2019, welcome them to the Chapter and encourage them (and all of our members) to take advantage of the many professional development, networking and information resources available through ISPE. Fellow ISPE members are a terrific resource for help with everyday professional challenges. And the ISPE Membership Directory is a great way to connect with fellow ISPE members. We encourage all members, current and new, to get involved with the Chapter's many committees, educational programs and social activities. Visit our website for more information and don't forget to subscribe to our blog for up-to-date information on our industry, Chapter activities and much more. And to all of our members, we value your input, so please email us at office@ispeboston.org with your feedback and questions. We look forward to hearing from you.
David Adams
Washington Alves, Jounce Therapeutics
Dr. Keith J. Bartelson, AMRI Global
Lauren T. Boltz, Moderna Therapeutics
Sarah Botham, Sensitech Inc
Josh Brewster, Sterling Office Services Division
Dr. Ethan Lovdal Butler, 3M
Bridget Mary Byrne, Middlesex Community College
Derek Coppola, Tulip Interfaces, Inc
Randy Corriveau, Bristol Myers Squibb
Ishita Dave, Takeda
Greta W. Davis, Verastem Oncology
Robert Dionne
Frederick M. Frankhauser, MCPHS University
Shirley Fraser, Takeda
Emily Geishecker, Javelin Biotech
Abigail Gendreau, High Purity New England, Inc.
Santhosh K. Gujje, DPS Group Inc
Stephanie Jacob, MCPHS
Monica Jiang, Ultragenyx Pharmaceutical Inc
Jasmine Khosla
Damon Robert Kology, Takeda
Douglas Lim
John Mistler, US Food & Drug Administration
Thomas Montgomery, Bluebirdbio, Inc.
Vineet Nair, CRB
James Michael Oleary, Alkermes
Muhammad Faraz Paracha, Valsource Inc
Alexa Prenovitz, DPS BioMetics Inc
Mark S. Reed, Lab / Life. Science. Architecture, Inc.
Joshua Regaillard, Framingham State University
Matthew Mark Rivard, Bristol-Myers Squibb
Robert Sheldon, Lonza Biologics Inc
Dawn M. Tavalsky, Sanofi Pasteur
Wakeldys Taveras, Middlesex Community College
Paul Tedesco, 42 North Solutions
Jennifer Teixeira, Hyde Engineering + Consulting Inc
Jen Vaickus, Takeda Pharmaceuticals Inc.
Steven Wade, BlueBird Bio
Jared W. Wine, Valsource
Tyler Richard Wingood, Edge Pharmacy Services LLC
Xiao-Jin Xu, Momenta Pharmaceuticals