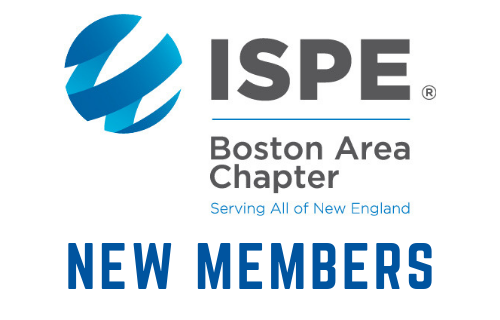 Posted by ISPE Boston
On July 8, 2019
We would like to introduce the Members who joined ISPE in June 2019, welcome them to the Chapter and encourage them (and all of our members) to take advantage of the many professional development, networking and information resources available through ISPE. Fellow ISPE members are a terrific resource for help with everyday professional challenges. And the ISPE Membership Directory is a great way to connect with fellow ISPE members. We encourage all members, current and new, to get involved with the Chapter's many committees, educational programs and social activities. Visit our website for more information and don't forget to subscribe to our blog for up-to-date information on our industry, Chapter activities and much more. And to all of our members, we value your input, so please email us at office@ispeboston.org with your feedback and questions. We look forward to hearing from you.
Diana Bartlett
Larry Brazell, GE Healthcare
Jason Brown
Carlos Candido, Pall Corporation
Matthew Centanni
Dr. Michael J. Cohen, PhD, Pfizer Worldwide R&D
Julie Comeau, AMAG Pharmaceuticals
Robert Crory, Avantor Fluid Handling
Emily Durant, University of Toronto
Michael Joseph Eaton, RoviSys
Lizandra Fralick, Lonza Biologics Inc
Pankaj Guliani, Bunker Hill Community College
John Herberger, Spark Therapeutics, Inc.
 Carenmarie Houle-Sayyed, Middlesex Community College
Dr. Anne Kantardjieff, PhD, Bluebird Bio
Steven Philip Kaul, Dechra
Michael Kennedy, Gilbane
Adam Kulczyk, Sanofi Genzyme
Amy L. Lambert, BMS
Thomas Leitch, BlueBird Bio
Jessica Lopez, Foundation Medicine, Inc.
Jessica Manuel, Lonza Biologics
Gregory Mayfield
Brendan McLaren, Lonza Biologics Inc
Lloydine Mills, Long Island University
Deepesh Moolchandani, Azzur Group
Brandon Musitano, Lonza Biologics
Hannah D. Nelson, BlueBird Bio
Jen Oakes, Bristol-Myers Squibb
Jose E. Ortiz
Richard Pokorny, J.H. Pokorny Assoc., LLC
Bill Seaver, Casella Process Solutions
June Stevens
Christopher Stolley, Lonza Biologics
Carlos Vides-Reyes, Takeda
Elena Wolfe, RoviSys
Zachary Zachowski, RoviSys