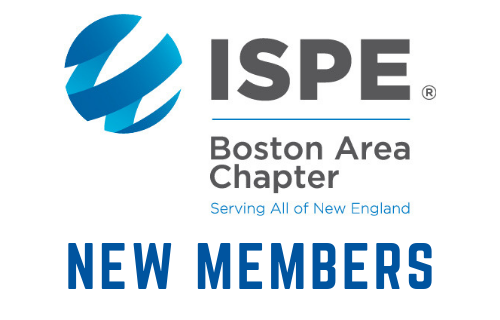 Posted by ISPE Boston
On September 4, 2019
We would like to introduce the Members who joined ISPE in August 2019, welcome them to the Chapter and encourage them (and all of our members) to take advantage of the many professional development, networking and information resources available through ISPE. Fellow ISPE members are a terrific resource for help with everyday professional challenges. And the ISPE Membership Directory is a great way to connect with fellow ISPE members. We encourage all members, current and new, to get involved with the Chapter's many committees, educational programs and social activities. Visit our website for more information and don't forget to subscribe to our blog for up-to-date information on our industry, Chapter activities and much more. And to all of our members, we value your input, so please email us at office@ispeboston.org with your feedback and questions. We look forward to hearing from you.
Jarrett Randall Arredondo, Watson-Marlow Fluid Technology Group
Daniel Barrett, SMMA
Divya Reddy Bommana, Alkermes
Michael D. Brescia, Cianbro Corporation
Richard Croteau, Jr., Takeda Pharma America Inc
Callum Davies, DPS Engineering
Matthew Elliott
Mark Feinberg, DPS Group Global
Mike Fowler, Intellia Therapeutics, Inc.
Miguel A. Fuentes, Takeda Pharma America Inc
Frank P. Gaibor, Takeda Pharmaceuticals Inc. USA
Sean M. Invencio, DPS Group Global
Jennifer Karman, Sanofi Genzyme
Joel Kenyon, Mettler Toledo – Thornton
Chad P. Keyworth, Cushman & Wakefield Services
Imran Khan, Margulies Perruzzi
Connie Langer, Pfizer
Adrian Lowe, Vericel Corporation
Laura Malagon, OrganaBio
Daniel Matrisciano, University of Maine
Deepthi Mettu
Tyler O'Keefe, DPS Engineering
Dozie Okafor, Sanofi
Kelly Perma, New England BDM
Daniel Peterson, Organogenesis Inc
Sreya Saha, Alkermes, Inc
Oscar Sanchez, Amag Pharmaceuticals
Darren Whitley
John M. Woltornist, WuXi Biologics (Shanghai) Co., Ltd.