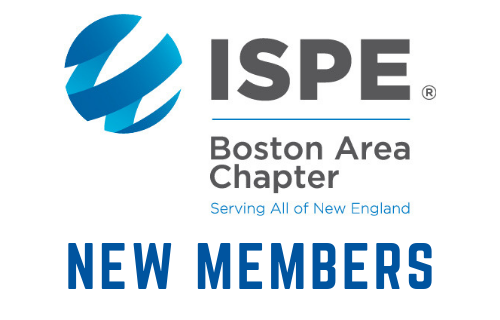 Posted by ISPE Boston
On March 5, 2018
We would like to introduce the members who joined ISPE in February 2018, welcome them to the Chapter and encourage them (and all of our members) to take advantage of the many professional development, networking and information resources available through ISPE. Fellow ISPE members are a terrific resource for help with everyday professional challenges.  And the ISPE Membership Directory  is a great way to connect with fellow ISPE members. We encourage all members, current and new, to get involved with the Chapter's many committees, educational programs and social activities. Visit our website for more information and don't forget to subscribe to our blog for up-to-date information on our industry, Chapter activities and much more. And to all of our members, we value your input, so please email us at office@ispeboston.org with your feedback and questions. We look forward to hearing from you.
Emily Catherine Brown, University of New Hampshire
Dominique Carrillo, University of Connecticut
Joshua Cote, UNH
John DAddieco, BS Chem E
Kevin Daley, North Shore Mechanical Contractors Inc.
Russell Ellis, BSME, ETA Process Inst. a Div of Safety Inc
Jesse Erickson, E2i, Inc.
Stefan Golas, UMass Amherst
Ravikanth Gumma, Novo Nordisk Inc.
Ryan Alexander Hamilton, Rockwell Automation
David Emil Hohrath, Boston University
Tyrel Wade Housman, AAS, PerkinElmer
Caroline Houston, University of New Hampshire
Erin Keraghan, Shire Pharmaceuticals
Stephen Kerr, MCPHS University
Patrick Lawton, University of New Hampshire
Bernard Liang, Genzyme Corp
Betty Liu, Jacobs Engineering Group Inc
Dean S. Ly, University of New Hampshire
Anoop Macharla, B.S, Genage Inc
Katie Elizabeth McManus, Middlesex Community College
Gabriela Misievicz, UNH
Jason Morrell, BS, Lantheus Medical Imaging
Balamurugan Murali, MS, Northeastern University
John Orlych, UNH
Michael Paglia, MSc, Oncorus
Sydney Reid, University of New Hampshire
Ian T. Root, University of New Hampshire
Olivia Rossi, UNH
Stephanie Skouras, MCPHS University
Tanino Tarara, BSME, Albireo Energy, LLC
Jackie Vu, Kineteks LLC
Lance Weed, BS ChemE
Karl Wieck, UNH
Jon W. Williams, MDiv
Yue Yu, Northeastern University
Rohan Zaveri, MCPHS University