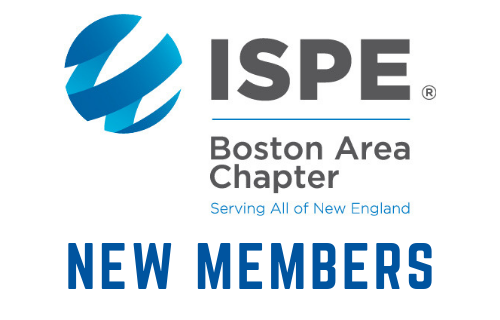 Posted by ISPE Boston
On September 8, 2020
We would like to introduce the Members who joined ISPE in August 2020, welcome them to the Chapter and encourage them (and all of our members) to take advantage of the many professional development, networking and information resources available through ISPE. Fellow ISPE members are a terrific resource for help with everyday professional challenges. And the ISPE Membership Directory is a great way to connect with fellow ISPE members. We encourage all members, current and new, to get involved with the Chapter's many committees, educational programs and social activities. Visit our website for more information and don't forget to subscribe to our blog for up-to-date information on our industry, Chapter activities and much more. And to all of our members, we value your input, so please email us at office@ispeboston.org with your feedback and questions. We look forward to hearing from you.
Charles Acquista, Astellas Institute for Regenerative Medicine
Romir Ametaj, DPS Engineering
Ryann Boudreau, University of New Hampshire
Matthew Ferrentino
Tom Hanson
Dean Matthews, Spectra Automation
Kholoud I. Mohamed
Dr. Ema G. Rodrigues, Alexion Pharmaceuticals
Michelle Rumsey
Dr. Mert Sahin, H.E.L Inc.
Siva Sontineni, Global Pharma Tek
Tejo Pavan Kumar Veerla, New England IT Associates