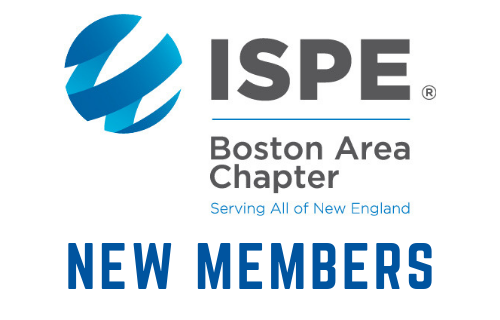 Welcome New Members December 2020!
Posted by ISPE Boston
On January 6, 2021
We would like to introduce the Members who joined ISPE in December 2020, welcome them to the Chapter and encourage them (and all of our members) to take advantage of the many professional development, networking and information resources available through ISPE. Fellow ISPE members are a terrific resource for help with everyday professional challenges. And the ISPE Membership Directory is a great way to connect with fellow ISPE members. We encourage all members, current and new, to get involved with the Chapter's many committees, educational programs and social activities. Visit our website for more information and don't forget to subscribe to our blog for up-to-date information on our industry, Chapter activities and much more. And to all of our members, we value your input, so please email us at office@ispeboston.org with your feedback and questions. We look forward to hearing from you.
John Mahoney
Jacqueline R. Horgan, University of Massachusetts Dartmouth
Yuvraj Lnu
Peter Perry, University of Massachusetts Dartmouth
Neeraj Milind Joshi, DPS Group
Sam Theodoss
Ryan Alexander Hamilton, Werum IT Solutions America, Inc.
Tonya Pimentel
Gavin Budlong
Tammy Griffin
Kim Swirsky, ABEC
James Willems Ransom, McCallumSather
Harsh Desai
Petra Lieber
Dr. Kevin Slatkavitz, ThinkQuality, LLC