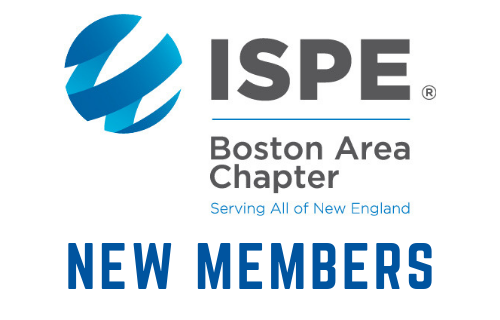 Welcome New Members February 2021!
Posted by ISPE Boston
On March 4, 2021
We would like to introduce the Members who joined ISPE in February 2021, welcome them to the Chapter and encourage them (and all of our members) to take advantage of the many professional development, networking and information resources available through ISPE. Fellow ISPE members are a terrific resource for help with everyday professional challenges. And the ISPE Membership Directory is a great way to connect with fellow ISPE members. We encourage all members, current and new, to get involved with the Chapter's many committees, educational programs and social activities. Visit our website for more information and don't forget to subscribe to our blog for up-to-date information on our industry, Chapter activities and much more. And to all of our members, we value your input, so please email us at office@ispeboston.org with your feedback and questions. We look forward to hearing from you.
Michelle Blake, MassBiologics of UMass Medical School
Ariel Brain, CBT Architects
Anne Brennan, Vertex Pharmaceuticals
Rebecca Cannon, MassBiologics of UMass Medical School
Catherine A. Collins, DPS Group
Katherine Cunningham, Setra Systems
Toni Dupell, DPS Group
Kris Esposito, Timberline Construction
Andre Ferreira, Commodore Builders
Tara Feuerstein
Michael Gagnon, Sentinel Process Systems Inc
Justin Gaines, Ecolab
Prashant Gudka
Leah R. Kelsey
Alex Kyranos, University of Massachusetts Amherst
Nicholas Landry, CRISPR Therapeutics
Sarah Ann LeBlanc, Takeda Pharmaceuticals Inc.
Jeff Lewis, Takeda Pharmaceuticals Inc.
Ryan O'Connell, Stellar Building Technologies
Hanumanth Reddy Palle, Ascent Pharmaceuticals
Justin Pritchard, Vertex Pharmaceuticals
Dylan Rapoport
Julia Sawaya, Pall Corporation
Chris Thornberry
Olivia Verdone
Jason Whiting, Kohler
Heejeung Yoo, Massachusetts College of Pharmacy and Health Sciences
Melissa Yu