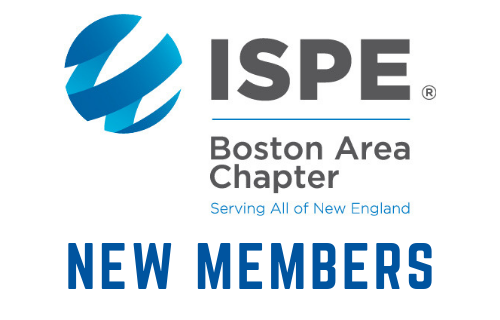 Posted by ISPE Boston
On February 5, 2020
We would like to introduce the Members who joined ISPE in January 2020, welcome them to the Chapter and encourage them (and all of our members) to take advantage of the many professional development, networking and information resources available through ISPE. Fellow ISPE members are a terrific resource for help with everyday professional challenges. And the ISPE Membership Directory is a great way to connect with fellow ISPE members. We encourage all members, current and new, to get involved with the Chapter's many committees, educational programs and social activities. Visit our website for more information and don't forget to subscribe to our blog for up-to-date information on our industry, Chapter activities and much more. And to all of our members, we value your input, so please email us at office@ispeboston.org with your feedback and questions. We look forward to hearing from you.
Nedghie Adrien, Boston University School of Medicine
Kwaku Amoakohene
Margaret Cai, Northeastern University
Nathaniel James Copp, Delta Project Management
Daniel Edgerly, Decco Inc – 31 Route 13 Brookline, NH 03033-2005 USA
Tomas Egana, Massachusetts Institute of Technology
Mike Feeney, Thermo Fisher – Scientific
Dr. Taro Fujimori, AbbVie Bioresearch Center, Inc.
Mrinal Ganash
Tina Guo
Sadie Hardy, USF
Sandra Isiminger, Framingham State University – 100 State St FRAMINGHAM, MA 01702 USA
Sunanda Kannapadi, Northeastern University
Woody Kemp, A&M Construction Co.,Inc.
Jessica Kenney, Alexion Pharmaceuticals
Maria Smiti Mariadassou
Leandra Elise Mario, Acorda Therapeutics, Inc.
Dr. Eric Mbunwe, Framingham State University
Nehal Himanshu Mehta
Arnaldo Pereira, Cellino Biotech
Cheyla Chanel Perez
Dan Petkanas, Elemental Machines
Marina Petrillo, WPI Student Chapter
James Le Phan, Pall Corporation
Pratik Randeria, Editas Medicine
Joshua Richards, Sarepta
Haley Sahlberg, BWT Pharma & Biotech
Mythili Senthilkumaran,
Yingjie Wang, Northeastern University
Cara Zipoli, Ultragenyx Gene Therapy