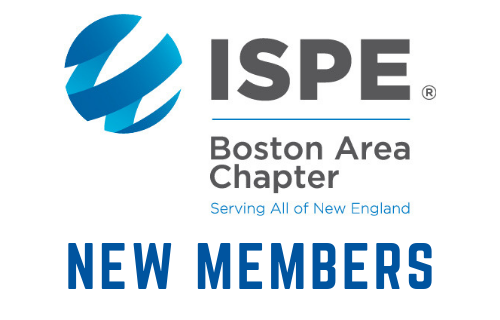 Welcome New Members June 2021!
Posted by ISPE Boston
On July 2, 2021
We would like to introduce the Members who joined ISPE in June 2021, welcome them to the Chapter and encourage them (and all of our members) to take advantage of the many professional development, networking and information resources available through ISPE. Fellow ISPE members are a terrific resource for help with everyday professional challenges. And the ISPE Membership Directory is a great way to connect with fellow ISPE members. We encourage all members, current and new, to get involved with the Chapter's many committees, educational programs and social activities. Visit our website for more information and don't forget to subscribe to our blog for up-to-date information on our industry, Chapter activities and much more. And to all of our members, we value your input, so please email us at office@ispeboston.org with your feedback and questions. We look forward to hearing from you.
Brett Aguiar
Francisco Amador, Avecia Biotechnology
Jessica Ball
Brittney Bebeau, Framingham State University
Enrico Giannitti
Daniel Glover, Seres Therapeutics
Dru Homer
Joseph A. Horvath, Takeda Pharmaceuticals Inc.
Shreyansh Jain
Douglas Knigh
Maria Koulopoulos
Eric Kwei, Amgen
Jamie McDonald
Saketh Mynampati
Michael Pinaud
Mohammed A. Riaz
Silas Akere Tamufor, Framingham State University
Richard Theg, Ultrafiltronics
Nicole Traut, Infinity Pharmaceuticals
Lauren Wong, Gritstione Bio