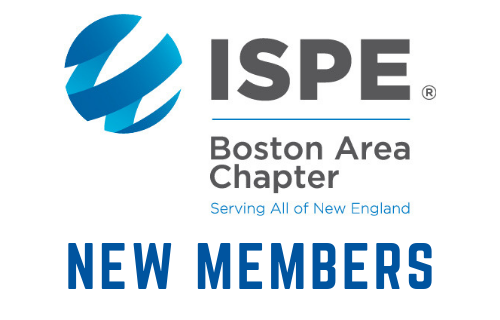 Posted by ISPE Boston
On June 8, 2020
We would like to introduce the Members who joined ISPE in May 2020, welcome them to the Chapter and encourage them (and all of our members) to take advantage of the many professional development, networking and information resources available through ISPE. Fellow ISPE members are a terrific resource for help with everyday professional challenges. And the ISPE Membership Directory is a great way to connect with fellow ISPE members. We encourage all members, current and new, to get involved with the Chapter's many committees, educational programs and social activities. Visit our website for more information and don't forget to subscribe to our blog for up-to-date information on our industry, Chapter activities and much more. And to all of our members, we value your input, so please email us at office@ispeboston.org with your feedback and questions. We look forward to hearing from you.
Peerawut Boonsom
Shih Yun Chen
Blerina Cipi, Framingham State University
Gregory Connelly, Vertex Pharmaceuticals
Alecsander Da Silva
Cesar Del Castillo Herrera, Teva Perú S.A.
Annabel Devault, Northeastern University
Katherine Edge Azuara, Ultragenyx Pharmaceutical Inc
Jaffar Husain, Intellia Therapeutics, Inc.
Wily Jara, Clean Room & VALIDATION S.A.C.
Ushma Mehta, MilliporeSigma
Peter Murphy, Sanofi
Ronny Opoku-Agyemang
Karthik Ramachandran, Alkermes, Inc
River Sava
Oluremi Solanke, Framingham State University
Ian Sullivan
Lixin Sun, Takeda Pharmaceuticals Inc.
Brandon Wing, Pall Corporation
Kimberly Zurliene, Dovel Technologies