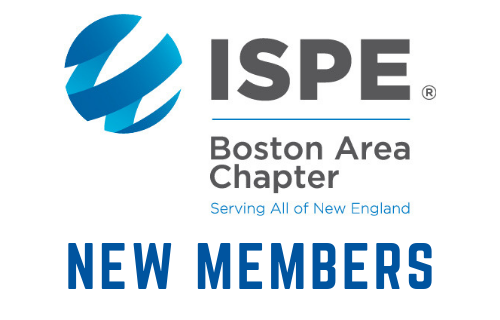 Welcome New Members May 2021!
Posted by ISPE Boston
On June 4, 2021
We would like to introduce the Members who joined ISPE in May 2021, welcome them to the Chapter and encourage them (and all of our members) to take advantage of the many professional development, networking and information resources available through ISPE. Fellow ISPE members are a terrific resource for help with everyday professional challenges. And the ISPE Membership Directory is a great way to connect with fellow ISPE members. We encourage all members, current and new, to get involved with the Chapter's many committees, educational programs and social activities. Visit our website for more information and don't forget to subscribe to our blog for up-to-date information on our industry, Chapter activities and much more. And to all of our members, we value your input, so please email us at office@ispeboston.org with your feedback and questions. We look forward to hearing from you.
Monique Ashton, AMRI Inc
Jane H. Chamberland
David Desjardins, Viega, LLC
David C. DiPietro
John Duggan, Sanofi Pasteur
Douglas L. Fainelli
Natalie Friel, Resilience
Ethan Grossman, SmithGroup Inc
Mark Henson, Takeda
David Howard, Piquette & Howard Electric Service, Inc.
Alla Katsnelson, DPS Engineering
Chris Kopinski, Amazon
Matthew Laracy, Alkermes
Anika Shiqin Luo
Mark A. Morana, Sr., ICQ Consultants Corp.
Trevor Murray, Zaiput Flow Technologies
Sharani Shauna Nasankar
Nicole Olivieri, Boston Analytical
Matthew Ostrowski, ElevateBio
Henry Michael Roy, E-volve Systems
Cailynne Santos
Irwin Schreiman
Madeline Stafford Sovie, Finch Therapeutics
Xufeng Sun, Berkshire Sterile Manufacturing
Mike Temple
Susan Vong, Poxy Clinical, LLC
Angelica Welch, Valsource