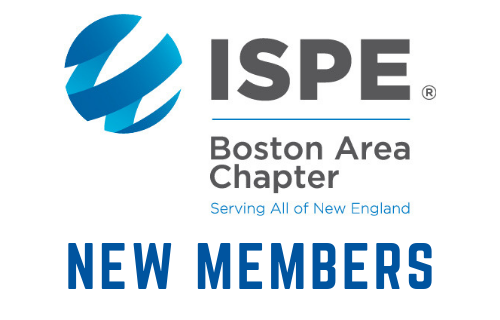 Welcome New Members November 2020!
Posted by ISPE Boston
On December 7, 2020
We would like to introduce the Members who joined ISPE in November 2020, welcome them to the Chapter and encourage them (and all of our members) to take advantage of the many professional development, networking and information resources available through ISPE. Fellow ISPE members are a terrific resource for help with everyday professional challenges. And the ISPE Membership Directory is a great way to connect with fellow ISPE members. We encourage all members, current and new, to get involved with the Chapter's many committees, educational programs and social activities. Visit our website for more information and don't forget to subscribe to our blog for up-to-date information on our industry, Chapter activities and much more. And to all of our members, we value your input, so please email us at office@ispeboston.org with your feedback and questions. We look forward to hearing from you.
Bill Aalerud, Columbia Construction Co
Jordan Bradley, StudioTROIKA
David M. Cronin, Cognition Corporation
Alison Day, Rapid Micro Biosystems Inc.
Mike Haynes
Steven Johnson, Ultragenyx Pharmaceutical Inc
Soogyeong Kim, Middlesex Community College
Ivan Kousidis, Vertex Pharmaceuticals
Sovanthida Morn
Justin Muri, Novo Nordisk
Adam Petersen, Unispace
David Rodoni, LFB USA, Inc.
Matthew Sekerak, Delta Project Management
Kathleen Stenson, Sarepta
Ken-Lee Sterling
Catherine Stone, Skanska
Mallika Tiwari, Novo Nordisk A/S