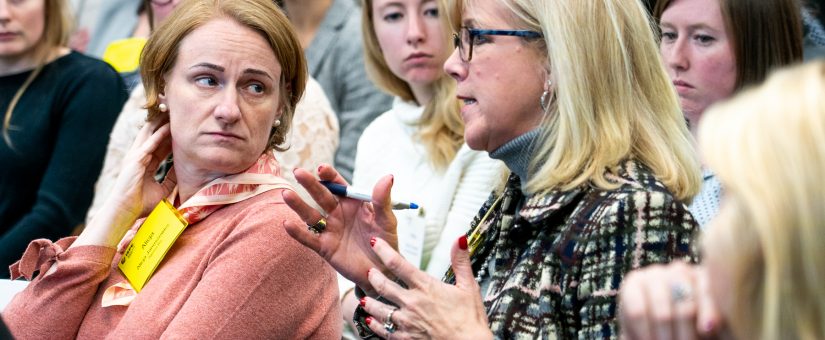 Posted by Kathy Marini
On December 20, 2018
The Chapter's Women in Pharma (WIP) group recently hosted "Bridging the Gender Diversity Gap" at the Alexion facility in the Seaport District, with audience participation one of the main drivers of the event. Featured was Liz Steele, MassBio VP of Programs and Global Affairs, who reviewed the MassBio report on gender diversity and outlined the steps recommended for companies and people interested in improving. A lively discussion enhanced by a panel of experts followed her presentation, with many specific examples shared by panelists and attendees alike.
The areas identified for improvement in the MassBio report were recruitment, retention, performance, promotion, talent development and compensation.  Some of the recommendations touched upon to attract and keep women included offering learning and development opportunities and flexible work schedules and addressing pay equality. Also discussed was supporting career breaks through policies such as shared parental leave and accommodations for women who are returning from a break. The need for explicit guidance on how to progress along their career path and what each stage requires in terms of experience, skills and competence was another area highlighted. Finally, the importance of mentorship, either in house or third party, was stressed.
Lending their expertise on the panel were Lauren Celano, co-founder of Propel Careers working within the industry, Mary-Lynn Fulton who heads up Clinical Operations at Vertex and co-chairs their women in leadership group (IWILL- Inspiring Women in Leadership and Learning), Jorg Thommes from the Bill & Melinda Gates Medical Research Institute which has worked to address gender diversity, and Katie Shannon, Sr. Director of Engineering at Brammer, who facilitated the discussion.
We would like to thank Alexion and their team, the attendees, panelists and facilitator, MassBio, and the WIP Committee for their positive approach to this important, ongoing discussion. We would also like to thank program sponsors Commissioning Agents, Cotter Bothers, DPS and Hyde Engineering & Consulting for their generous support.
Upcoming WIP events include a seminar on public speaking and identifying speaking opportunities and a WIP-sponsored event in collaboration with the June ISPE BioManufacturing conference in Boston. Keep an eye out for details to follow.
The Women in Pharma group looks forward to growing our mission with your support.  Our membership is increasing and many of you have stepped up to offer their help. Thank you!  If you would like to join us, please let us know by reaching out to Office@ispeboston.org, Kathryn.marini@crbusa.com or Katherine.leitch@alexion.com. All are welcome – we would love your input and energy!
To view Liz Steele's PowerPoint presentation, click [HERE].
To read the complete MassBio report on gender diversity, click [HERE].