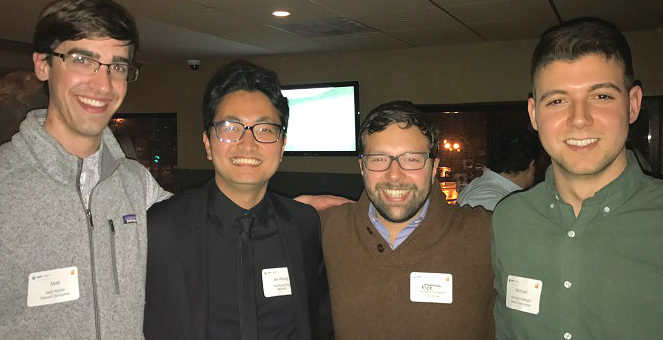 YPs Dish Up Good Conversation, Great Beer and Networking Bingo at Meadhall
Posted by Brian Kennedy
On April 26, 2017
The Young Professionals Spring Networking Event on April 6th at Meadhall in Cambridge was a big hit. This was the YPs first time holding an event at the popular Kendall Square bar and 37 young (and seasoned) professionals from a variety of local companies braved the torrential rain to enjoy Meadhall's exquisite cuisine and wide selection of beer from around the world.
The night was filled with good conversation, great beer and networking bingo! Every guest received a networking bingo card upon arriving at the event. These cards were filled with both professional and personal prompts, such as "worked at Shire," or "used a pipette" or "travelled to Europe." While for some this may bring up unpleasant memories of freshman year ice-breakers, the game allowed attendees from all across the biotech and pharma industry to learn a bit about each other's professional experiences and personal interests. Upon the successful completion of their bingo card, guests were entered into a raffle, and Amazon, Starbucks, and Dunkin' Donuts gift cards were awarded to three lucky YPs.
As is typical for ISPE networking events, the gathering attracted a diversity of attendees from different professional backgrounds within the Boston area biotech industry. Many were process engineers from large pharmaceutical companies, some were validation specialists from support service groups, and others were representatives from vendors that supply the disposables and raw materials our industry runs on. Needless to say, these diverse backgrounds made for more interesting networking bingo!
If you missed out on the fun at Meadhall, don't worry! There are many more opportunities for you to join the Boston area YPs in the coming months. Keep an eye out for registration for the YPs annual Red Sox game on July 17 against the Toronto Blue Jays – I'll plan to see you there!