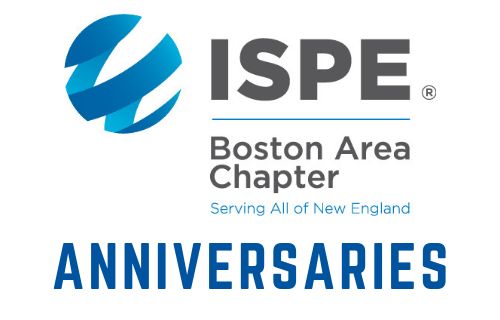 Posted by ISPE Boston
On October 5, 2017
Please congratulate the following members celebrating milestone anniversaries in September 2017.  Their dedication to ISPE, the Boston Area Chapter and the industry is applauded!
Over Twenty Years
Edwin L. Harmon, III, Director of Operations, LSNE – Contract Manufacturing Organization
Lawrence W. Weiner, Senior Director, Strategic Innovation & Program Management, Indigo
Paul E. Rowe
Jeffrey L. Werner, BA, MS
Robert T. Clark, Director of Sales/Marketing, Perrigo, Inc.
Michael J. James, Sales Rep, Northeast Water Services
Twenty Years
Joseph Basile,
Douglas E. Grevatt, Associate Director, Project Management & Facilities Engineering, Boehringer Ingelheim Pharma
Fifteen Years
Alan W. Lam, Engineer, Shire
Jon C. Warn, Board of Directors, Commissioning Agents, Inc.
Michael Zlatin, Senior Applications Engineer, Evoqua Water Technologies Corp
Chad E. Michael, CPIP, Validation Specialist, Commissioning Agents Inc
Michael Colacino, Senior Director Gobal Manufacturing, Aegerion Pharmaceuticals
Jack E. Greene, Senior Director, Process Development and Manufacturing, Allena Pharmaceuticals
Gokaraju K. Raju, PhD, Executive Director PMI, MIT
Ten Years
Keith Tang, Process Engineer, M+W Group
Meredith M. Ivers, Director, Global Search Solutions
Thomas Joseph Hume, National Market Segment Manager, Nora System Inc
Gennady Mindlin, Director, Facilities, Shire HGT
John R. Sweet, Project Manager, Commissioning Agents Inc.
Christopher M. Ciampa, Senior Product Support Specialist, Thermo Fisher Scientific
Kevin R. Unger, Atlas High Purity Solutions, Atlas High Purity Solutions, A Division of Quench USA
Five Years
Christopher T. Harley, Sr. Process Engineer, Rhodes Technologies
Thomas F. Struble, Director, Technical Services, CAI
Antonio J. Fernandez, Principal Consultant/ Director, Biopharma Consulting JAD Group Inc
Valerie J. Fila, Manager, Cleanroom Services, Avista Pharma Solutions – Agawam, MA