All Strikes for Young Professionals at Sacco's Bowl Haven
Posted by Kevin Keating
On February 22, 2017
The Young Professionals bowling event at Sacco's Bowl Haven (Flatbread's Pizza) in Somerville was a big hit for the fourth year in a row. An enthusiastic group of 28 young professionals and students turned out for a night of candlepin bowling, delicious pizza and an opportunity to make new connections. The YPs represented a wide range of local companies and professional areas, including automation engineering, manufacturing science and technology, and technical sales. The YPs were excited to welcome a few students from Northeastern University, who were eager to learn about the YP's experiences starting out in the industry. Despite taking place in a gap between a slick morning commute and an impending blizzard, the turnout this year was even larger than last year.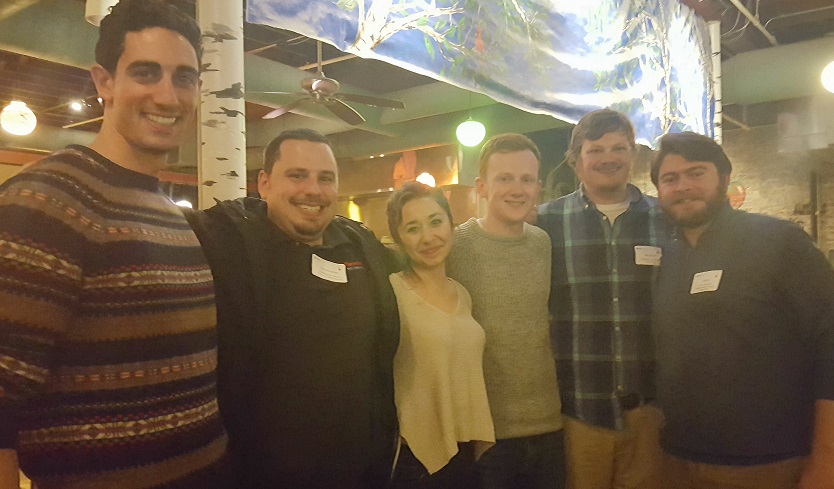 After eating a few slices of pizza and chatting with other attendees, the bowlers broke up into small groups for each of the five lanes reserved for the event. Though the groups were formed fairly randomly, it happened that several YPs were able to meet fellow YPs from within their own companies. One engineer who graduated in 2016 and recently began working at a Boston area company was able to connect with another YP who has worked for the same company for several years. Two other engineers who recently transferred to similar roles at different facilities within the same company were able to connect as well. One attendee remarked that it was refreshing to be around fellow engineers in a relaxed environment outside of work – an experience that is not easy to come by after leaving school. This event was the first YP event for several of the attendees, and their feedback was overwhelmingly positive. Many of these newcomers plan to attend more YP events in the future.
Many of the bowlers had never tried "candlepin" bowling, a regional style that uses a smaller ball and thin, candle-shaped pins. Chuck Mirabal from Shire, however, did not let this curveball throw off his bowling game. He wound up as the top bowler of the night, scoring 88 points. His next opportunity to brag over the victory will be on April 6 at the YP event at Meadhall in Cambridge. The YPs are also planning to create more spontaneous "meet-ups" throughout the rest of the winter and spring. Stay tuned for one in your neighborhood!