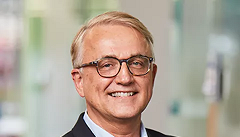 Episode 15 – Dr. Paul Peter Tak on Doing Everything With Patients in Mind
Posted by Samir Gondalia
On January 21, 2022 My guest in this episode is Dr. Paul Peter Tak.
Dr. Tak received his medical degree cum laude from the Free University in Amsterdam and was trained as an internist, rheumatologist, and immunologist at Leiden University Medical Center, where he also received his PhD. He has been a Clinical Associate Professor of Medicine at the University of California San Diego. Next, he served as Professor of Medicine and founding Chair of the Department of Clinical Immunology and Rheumatology at the Academic Medical Centre/University of Amsterdam (AMC). During this time, he founded Arthrogen b.v., a biotech company focused on gene therapy.
He has published extensively in peer-reviewed journals (> 570 publications, H-index 130, >75,000 citations) and received numerous awards. He has been elected Fellow of the Academy of Medical Sciences (U.K.)
At GlaxoSmithKline he served as Senior Vice President, Chief Immunology Officer, and Global Development Leader. He oversaw the creation of a portfolio of new medicines for immune-mediated inflammatory diseases, cancer, infectious disease and pain, including anti-OSM antibody, anti-LAG3 antibody, ESM-BET inhibitor, RIP1 kinase inhibitor, anti-GM-CSF antibody, anti-CCL17 antibody, Benlysta sc, gepotidacin, molibresib (BET inhibitor), belantamab mafodotin (anti-BCMA antibody-drug conjugate), and NY-ESO1 SPEAR T cell therapy. He was the Chair of the Scientific Review Board, the governing body accountable for the scientific assessment of GSK's R&D portfolio.
During 2018-2020 Paul Peter served as Venture Partner at Flagship Pioneering and also as President and CEO of Kintai Therapeutics, a start-up focused on enteric signaling networks, where he oversaw the creation of a portfolio of proprietary small molecules called precision enteric medicines for the treatment of obesity, neurological disease, and cancer.
In addition, he has served as President and CEO of Tempero Pharmaceuticals, Board Member of Galvani Bioelectronics, ViiV Healthcare, Sitryx Therapeutics (co-founder), Omega Therapeutics, Levicept, and Citryll.