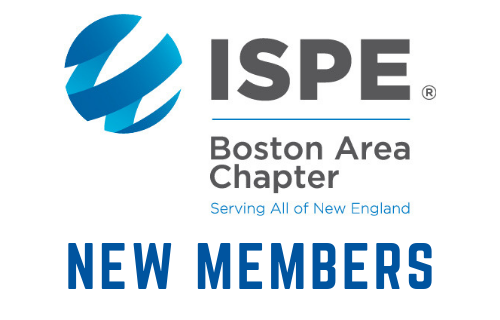 Posted by ISPE Boston
On March 5, 2019
We would like to introduce the Members who joined ISPE in February 2019, welcome them to the Chapter and encourage them (and all of our members) to take advantage of the many professional development, networking and information resources available through ISPE. Fellow ISPE members are a terrific resource for help with everyday professional challenges. And the ISPE Membership Directory is a great way to connect with fellow ISPE members. We encourage all members, current and new, to get involved with the Chapter's many committees, educational programs and social activities. Visit our website for more information and don't forget to subscribe to our blog for up-to-date information on our industry, Chapter activities and much more. And to all of our members, we value your input, so please email us at office@ispeboston.org with your feedback and questions. We look forward to hearing from you.
Neil Blackmore, Ecolab Inc
Joel Campaign, Unither Pharmaceuticals
Kondal Chintakunta, Vertex Pharmaceuticals
William Clarke, Transparency Life Sciences
Jayne Gill, PTS Advance
Bunnarene Hang
Mustafa Hanif, Shire
John Harrington, Consigli Construction Co., Inc.
Courtney Hewett, Takeda
Raheeq Hossain, Shire
Todd Kichefski, Alnylam Pharmaceuticals
Erick Lacy, Consigli Construction Co., Inc.
Christine Lindberg, Validated Cloud
Daniel Marden, Sentinel Process Systems Inc
Devin Markanda, Northeastern University
Shawn K. Meas, Middlesex Community College
Mehak Mehta
Kelly O'Hare, Solid Biosciences
Juhx Pellazar, Takeda
Amaris Perez, Brammer Bio
Cory Pinheiro, Consigli Construction Co., Inc.
Theodore Poisson
Bouwien Smits, Takeda
Taylor Terrio, Takeda Pharmaceutical Co. Ltd.
Paul Wasserzieher
Michael Wedge, ACV Enviro