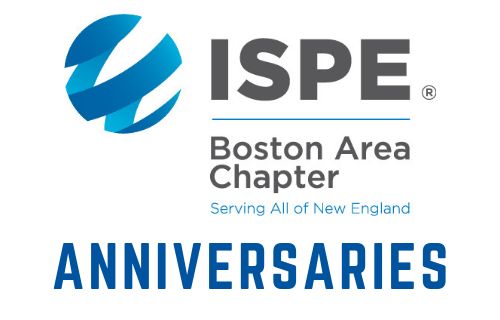 Posted by ISPE Boston
On February 4, 2019
Please congratulate the following members celebrating milestone anniversaries in January 2019.  Their dedication to ISPE, the Boston Area Chapter and the industry is applauded!
Over Twenty Years
John P. Alleruzzo
Kenneth A. Bradley, Pfizer Inc
Dr. Eric S. Good, ProPharma Group
Dr. Richard C. Moreton, FinnBrit Consulting
Jeffery N. Odum, CPIP, Sanofi Genzyme
Daniel J. Pratt, PE, Takeda Pharmaceutical International Co.
Scott Ripatrazone, Insco Group
Robert J. Sheehan
Peter K. Silverberg, Abec, Inc., Abec, Inc.
Terrence Stansfield, Alexion Pharmaceuticals
Fifteen Years
Kevin M. Chronley, A/Z Corporation
James A. Magoon
Thomas R. Mulligan, TechTrak LLC
Deborah J. Smith, EMD Millipore
Robert J. Wherry, CPIP, Takeda
Ten Years
Robert W. Smith, B.Eng, Genzyme Corp
Daniel Haun, CPIP, Commissioning Agents
Jayen R. Diyora, Alnylam Pharmaceuticals
Five Years
Timothy Mills, Bristol-Myers Squibb
Chang Run, Northeastern University