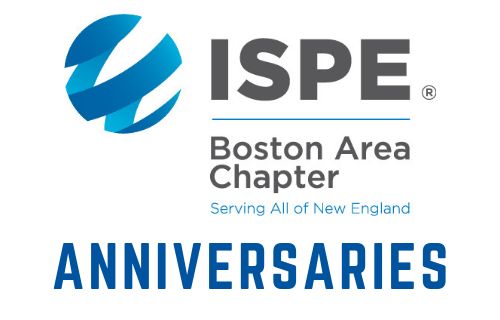 Posted by ISPE Boston
On June 4, 2019
Please congratulate the following members celebrating milestone anniversaries in May 2019.  Their dedication to ISPE, the Boston Area Chapter and the industry is applauded!
Over Twenty Years
Michael J. Denault, Denault Associates
John H. Evers, MS, Lantheus Medical Imaging
Joshua Froimson, AbbVie Bioresearch Center
Doyle R. Johnson, Jr., BS, MS, MBA, Stantec
Mark P. Laroche, Superior Controls Inc
David P. MacKay, Pfizer
Stephen P. Miraglia, Lonza Biologics Inc
David Monette,
Peter Mosgrove, Mettler-Toledo Thornton Inc
Russell B. Parry,
Richard A. Pierro, Superior Controls Inc
Dean A. Poillucci, Skanska USA Building Inc
Albert G. Prescott,
Peter J. Sbrollini, MBA, Beard Integrated Systems Inc
Jeremy T. Shurtleff, Dynamic Systems Inc
Michael J. Sweeney, PE,  MBA, DPS Group
Twenty Years
Karen Conte, Pfizer
Timothy W. Crowley, Sentrol, Inc.
Daniel M. Duffy, Jr., Sanofi
Marina L. Kutsovskaya, Shire
Joseph J. McCauley, Pfizer Inc
Ten Years
Paulo J. Carvalho, Quanterix
Five Years
David M. Peters, Elliott Controls, Inc.
Adam Lomnicki, Commodore Builders
Katherine Leitch, Alexion
Fahad Syed Gilani, Acorda Therapeutics
Janmeet Anant, EMD Millipore