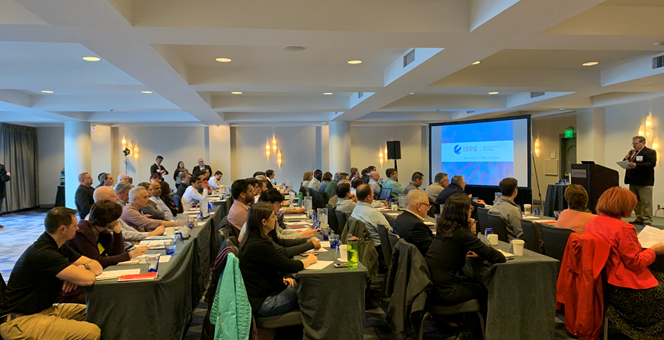 GAMP Forum Attracts a Crowd to Cambridge
Posted by Heather Longden
On January 29, 2020
The GAMP Forum attracted a great turnout on January 16, with almost 100 attendees gathering with the Boston Area Chapter for a half-day filled with new information on a popular topic. Happily, the event drew many not already members of ISPE whom we hope are encouraged to join the Boston Area Chapter and the GAMP Community of Practice.
The forum was a longer and more detailed educational program than normal because we were pleased to collaborate with multiple presenters from across the US, all of whom are active members of the ISPE GAMP Community of Practice (COP). The topics were computer system validation (CSV) and Computer Software Assurance (CSA) and the speakers provided both breadth and depth through a series of presentations and discussions that spanned an entire afternoon.
The plenary presentation was given by a panel of validation experts (Shana Dagel-Kinney, Ken Shitamoto and Khaled Mousally) who have been directly involved in the CDRH Case for Quality initiative, either as a member of the FDA team or by adopting the principles of CSA in anticipation of the new draft guidance being released. While the draft was not available at the time of the forum, it is expected to be published by the end of 2020.  This figure emphasized for me the paradigm shift that this initiative is proposing:
RegenXbio and Gilead have brought these concepts into their companies, resulting in faster time to deploy new or updated systems, minimizing the documentation and providing significant business savings, while reducing errors and deviations and delivering more confidence in the use of computerized systems, as shown in the slide below.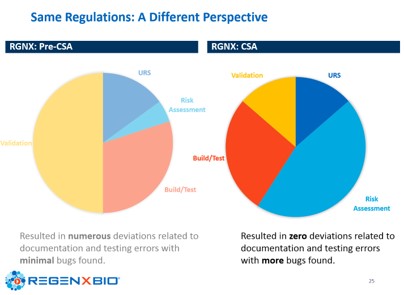 After the interesting plenary and question and answer session, the forum split into two tracks: one continuing the theme of risk assessments in system validation and the other exploring how new technologies might be used in regulated life science environments.
In the CSV track, Lorrie Vulo-Schussler, James Hughes and Stephen Ferrell continued the topic of risk based validation or assurance, along with examining the risks and risk mitigation of cloud based Software as a Service applications through careful verification and auditing. In the technology track, Eric Staib and James Canterbury shared their experiences of using Artificial Intelligence (AI) and Machine Learning (ML) in regulated environments and the potential of BlockChain.
The forum was followed by a networking event, where attendees were joined by the Chapter's Board of Directors and other ISPE members. This gave attendees the opportunity to extend discussions with the speakers – and one another – on the topic of computerized systems and how to take advantage of the benefits that automation can offer to the pharmaceutical industry.
The Chapter would like to thank the speakers, most of whom flew into Boston to participate, for their excellent presentations and for making the forum an unqualified success, and event sponsors DPS Group, ICQ Consultants and Waters for their invaluable support.
Want more information about CSV and CSA? Click here for a detailed summary of the forum presentations.