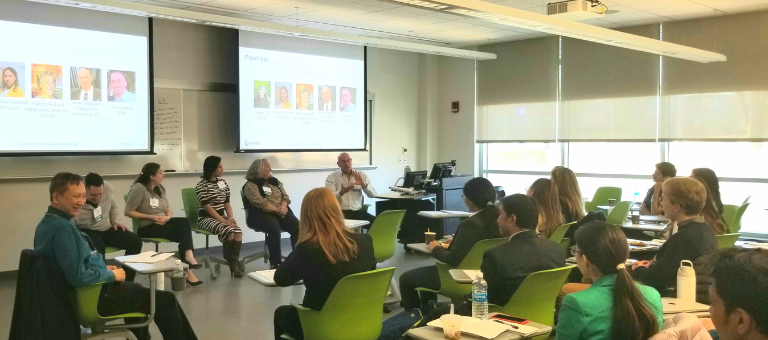 Students Fill the Classroom at the Annual Career Workshop
Posted by Ryan Mazur
On February 23, 2023
This past Saturday, February 18th, the Student Development Committee hosted the Student Career Development Workshop in-person for the first time since the start of the pandemic. The event featured resume, cover letter, and interview advice; an inaugural Talent Acquisition Panel; networking lunch with resume reviews; information sessions from MassBioEd and Massachusetts Life Sciences Center (MLSC) Internship Challenge; job application mindset; and a job application live workshop.
Students learned how to analyze a job description in order to best structure and word a resume for full-time employment or co-op/internship opportunities. Students saw best practices for writing a cover letter as well as preparing for and executing various different interview types. The Talent Acquisition panel was a great opportunity for students to ask questions about sponsoring visas and the best response to that question on applications; what happens to applications once they are submitted; best interview follow-up practices; etc. Students had the opportunity to take immediate action and register for a virtual career fair opportunity by MassBioEd and create a profile for the MLSC Internship Challenge. Students then were exposed to a methodology to create healthy habits and routines that not only apply to job applications but also to any core aspect of their lives. Lastly, students took a call to action to apply for a job before leaving the workshop.
Thank you to Becky Tso (Alnylam), Dr. Rahul Talekar (Alnylam), Lauren Flinton (Alnylam), Carolina Guzman (PM Group), Alexis Jackson (MLSC), John Brothers (MassBioEd), and Brian Hagopian (Clear Water Consulting, Inc.) for supporting the event!
Thank you to UMass Lowell for hosting the event!
If you are interested in helping the Student Development Committee put together next year's workshop, please email studentdevelopmentcommittee@ispeboston.org!
Check out the event photos in the slideshow below!