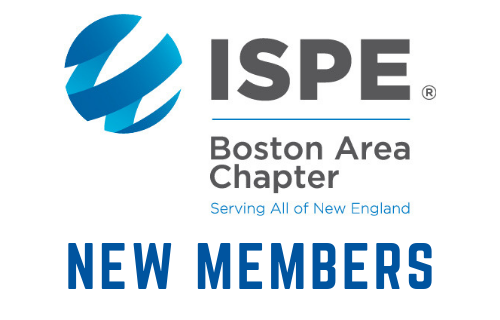 Welcome New Members October 2023!
Posted by ISPE Boston
On November 3, 2023
We would like to introduce the Members who joined ISPE in October 2023, welcome them to the Chapter and encourage them (and all our members) to take advantage of the many professional development, networking and information resources available through ISPE. Fellow ISPE members are a terrific resource for help with everyday professional challenges. And the ISPE Membership Directory is a great way to connect with fellow ISPE members. We encourage all members, current and new, to get involved with the Chapter's many committees, educational programs, and social activities. Visit our website for more information and don't forget to subscribe to our blog for up-to-date information on our industry, Chapter activities and much more. And to all our members, we value your input, so please email us at office@ispeboston.org with your feedback and questions. We look forward to hearing from you.
Arda Akyel
Devangi Amin, Northeastern University
Kelsey Carnell, Axis Communications
Timothy Danler
LALIT SAGAR DATTA
David DeLuca, Compliance Group
Padhmalakshmi Devarapalli, Northeastern University
Patrick Diette
Matthew Dumouchel, Tulip Interfaces
Tucker Gallant, Lonza
Jackson Godin, Massachusetts Maritime Academy
Jessica Goode, KYNOTA
Michael Griffin
Shane Hackett, Massachusetts Maritime Academy
Connor Hawkins, Elliott Controls INC
Alexandria Holmes, KYNOTA
Nidhi Lathia, Northeastern University
Massiel Leon
Aidan McDonagh
Heath McGilvray
Mark Melilli
Thomas Mondeau
James Murray
Ann Muthoni
Michael O'Brien, Eagle Air Freight, Inc
Meredith Orbacz, MadgeTech
Tristan Passeggiati, AKBA
Marty Patnaude, American Alarm and Communications
George Platt, Novo Nordisk
Jovita Ramos Sanchez, New England Controls Inc
Jeremy Salcedo Lara
John Schena, Northstar Project & Real Estate Services
Giuliana Schiano, Massachusetts Maritime Academy
Charlie Schick, Business Finland
Raveendra Shettar, Moderna Therapeutics
Narvey Sims, Vertex Pharmaceuticals
Francesca Tise, Alnylam Pharmaceuticals
Yashvee Nayankumar Vaghela, Northeastern University
Lucy Williamson, Northeastern University
Gwyneth Wong
Andrew Yang, ElevateBio