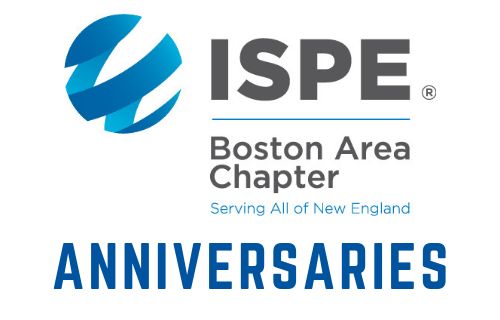 Posted by ISPE Boston
On April 5, 2019
Please congratulate the following members celebrating milestone anniversaries in March 2019.  Their dedication to ISPE, the Boston Area Chapter and the industry is applauded!
Over Twenty Years
Saboo Aghababayan, MS, MBA, Genzyme Corp
Richard Francis Caires, Jr., Shire HGT
Ronald C. Case
Dr. Charles L. Cooney
Robert C. Davis, Process Control Solutions
Edward F. Dean, III, Eagle Electrical Supply Co
Michael F. Diker, Bristol-Myers Squibb
Ian S. Gosling, Cytronix Ltd
Brian M. Hagopian, CPIP, Clear Water Consulting, Inc.
David G. Harney, Microfluidics
Mitchell I. Hollander, Lantheus Medical Imaging
Stephen P. Kuzil, Novo Nordisk US Bio Production Inc.
Howard L. Levine, PhD, BioProcess Tech Consultants, Inc.
Thomas E. McLaughlin, Brooks Instrument
Joseph Musiak, Acorda Therapeutics, Inc.
Peter A. Petrillo, Millennium Facilities Resources Inc
Richard D. Quinby, Biogen Idec
Gregory M. Ruklic, Independent
George R. Skillin, Pfizer
Robert P. Vecchione, BWT Pharma & Biotech
Andre L. Walker, CPIP, Walker BioPharm Consulting
Jack N. Wentz, Lantheus Medical Imaging
Jay F. Zaino, EMSBMS, LLC
Gary V. Zoccolante, BSME, Plymouth Rock Water Consultants
Twenty Years
Stig Bockman-Pedersen, CCQV Services
Fifteen Years
Albert G. LaFrance, Organogenesis Inc
Matthew G. Opalenik, Pfizer Inc
Peter E. Przybycien, Sanofi
Stephen D. Ryan, Thermo Systems
James E. Snow, Jr., CRC Consulting
Ten Years
Nathan A. Hickey, Feldmeier Equipment
Alex A. Lee, Sanofi
Doreen Newhouse, Bridge Associates International LLC
Five Years
Sandra J. Ahern, MSc, MBA, Genzyme
Thomas L. Armen, Rubber Fab
Ryan Bogosian, Azzur Group – Waltham, MA
Dr. Qinguo Fan, University of Massachusetts Dartmouth
Christopher B. Hack, King Gage Engineering
Adam J. Laber, ICQ Consultants