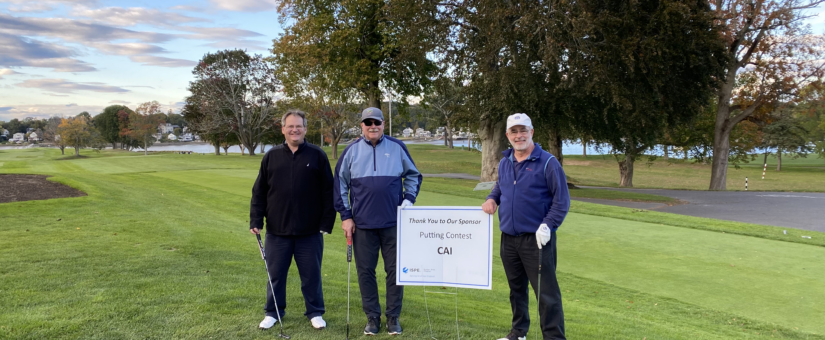 The Summer Golf Tournament That Finally Happened
Posted by ISPE Boston
On October 22, 2021
This event was originally scheduled for August but was still a success in October!
It was worth the wait to play this beautiful golf course in the Fall amidst the bright colored leaves as they began to change. Although the brisk, windy weather wasn't quite what we expected at this event; everyone was still in high spirits by the end of the day and ready for a delicious meal in the ballroom.
The Rescheduled Summer Golf Tournament, held Monday, October 18th at Kernwood Country Club in Salem, MA, kicked off with a shotgun start at 12:30 pm after some socializing and grazing of boxed lunches and cocktails. If you attended this event, then you know the registration table was stocked full of some sweet swag to take home that day too! The Yeti Rambler mugs were among the biggest hits, along with t-shirts, golf balls and golf towels!
This just-for-fun golf tournament also included a putting contest for those who purchased the additional raffle ticket. This may have been the most challenging portion of the tournament, with only 6 golfers making the 30' putt out of over 100 participants!
Despite the chill in the air, this was an exciting event to end the golf season. Thank you to all our sponsor companies:
| | |
| --- | --- |
| A/Z Corporation | Tee Sign |
| Boston Analytical | Tee Sign |
| BWT Pharama & Biotech | Giveaway Sponsor |
| CAI | Putting Contest |
| CI Design | Straightest Drive – Women |
| Columbia Construction | Straightest Drive – Men |
| Commodore Builders | Tee Sign |
| DPR Construction | Giveaway Sponsor |
| DPS Group Global | Longest Drive – Men |
| Kinetics | Hole-In-One |
| New England Lab | Tee Sign |
| PIDC Construction | Tee Sign |
| RW Sullivan | Closest to the Pin – Men |
| Sentrol Life Sciences | Tee Sign |
| Sequence | Closest to the Pin – Women |
| Sienna Construction | Tee Sign |
| Skanska | Tee Sign |
| Superior Controls | Longest Drive – Women |
| Timberline Construction | Tee Sign |
| TRIA | Tee Sign |
| Tsoi Kobus Design | Cocktail Hour |
| Valsource | Tee Sign |
Congratulations to the winning teams!
First Place:
Steve Clark, Dorian Alba, Jack Fitzpatrick, Saquib Butt
Second Place:
Sherwood Butler, Amy Gusky, Ryan Dessert, Jack Dibble
Third Place:
Geoff Wilkinson Sr., Geoff Wilkinson Jr., Paul Degnan, Ed Mulligan
Contest Hole Winners
Men's:
Closest to the Pin: Charlie Harting
Longest Drive: Jon-Mark McLaughlin
Straightest Drive: Matteo Taormina
Women's:
Longest Drive: Kerrie Julian
Straightest Drive: Kara Goodwin
We would also like to thank our devoted, hardworking volunteers: Paul Sullivan, Brooke Cote, & Josie Corcoran for donating their time and effort to make this event possible!