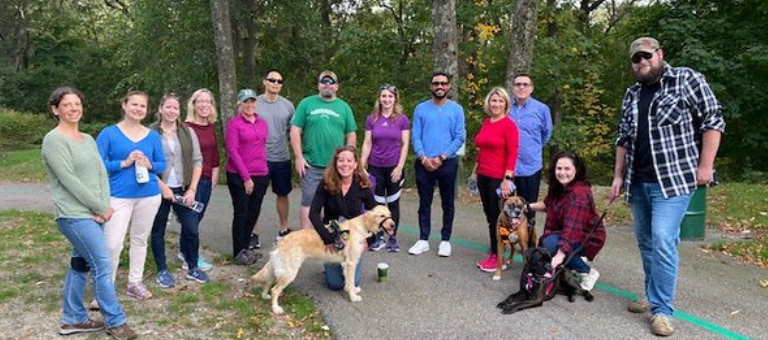 VIP, WIP, Sip and Walk Beaver Brook, Mighty Squirrel and Dogs!
Posted by Caren Jenkins
On October 25, 2021
VIP WIP Sip and Walk Beaver Brook, Mighty Squirrel and Dogs!
On the lovely autumn evening of Wednesday, October 20th, Veterans in Pharma (VIP) and Women in Pharma (WIP), had their very first combined event which was a howling success!
(A perfect ISPE Boston Area social networking event in my humble opinion: going for a walk, meeting new people, dogs, and good craft beer).
We had 22 folks, 2 boxers and a golden retriever come together for a lovely walk at Beaver Brook Reservation in Waltham, MA. After walking up a thirst, we all sauntered over to the Mighty Squirrel Brewery, conveniently located less than one tenth of a mile from the park. The group gathered on the patio to sample the latest seasonal brew flavors and partake in networking and great conversation. New connections were made as well as reuniting with old colleagues. There was something for everyone at this event – beautiful weather, fine company, yummy beverages, and food; as well as plenty of belly rubs and ear scratches enjoyed by the pups! A great time was had by all.
Due to the enjoyment and success of this, keep your eyes on the ISPE Boston Area Chapter calendar. More Walk and SIP networking events coming soon.
Remember to follow ISPE Boston Area Chapter on LinkedIn, Twitter and Facebook. Thank you to all who attended. A special thank you to the Veterans in Pharma at ISPE Boston, Victor Taubinger and Tom Struble who agreed to allow Women in Pharma to do this as a combo event with them; as well as helping to coordinate and promote. Looking forward to doing more events together soon!