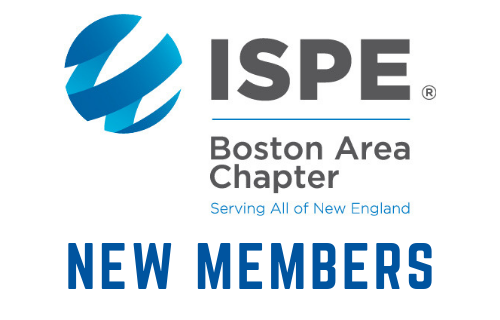 Posted by ISPE Boston
On November 8, 2018
We would like to introduce the Members who joined ISPE in October 2018, welcome them to the Chapter and encourage them (and all of our members) to take advantage of the many professional development, networking and information resources available through ISPE. Fellow ISPE members are a terrific resource for help with everyday professional challenges. And the ISPE Membership Directory is a great way to connect with fellow ISPE members. We encourage all members, current and new, to get involved with the Chapter's many committees, educational programs and social activities. Visit our website for more information and don't forget to subscribe to our blog for up-to-date information on our industry, Chapter activities and much more. And to all of our members, we value your input, so please email us at office@ispeboston.org with your feedback and questions. We look forward to hearing from you.
Emily Davis Airoldi, Wave Life Sciences
Kara Berg, CRB
Noah Bryant, Zajac, LLC
John Daniels, The Hope Group
DELASIE DELA-SESHIE, FINCH THERAPEUTICS GROUP
David M. Dube, Sarepta Therapeutics
Michael W. Good, Commissioning Agents, Inc.
Benjamin Grotton, BlueBird Bio
Ivan Houlihan, IDA Ireland
Kelley Huang, UMass Medical School
Kavitha Kannan, University of Connecticut
Niki Khyamian
Stephen Lahti, RG Vanderweil Engineers
Jason Li, Corning LIfe Sciences
Amy MacLauchlan, MilliporeSigma – Bedford
John Dominic Mancini, BlueBird Bio
Ryan Patrick Mulligan, University of Massachusetts Amherst
Pelle Olsson, Unibloc-Pump Inc.
Nancy Panyanouvong, Middlesex Community College
Michael Paquette
Peter Phuong
Perla Redfern, Siemens Building Technologies
Paula I. Rosenof, Genzyme
Michelle Sandoval, Gerflor USA
Helmut Steudel, PE, Exyte
Geoff Sylvester, Jounce Therapeutics
Dr. Geraldine Patricia Taber, PhD, Pfizer
 Emma Turton, Azzur Group
Ryan Whittemore