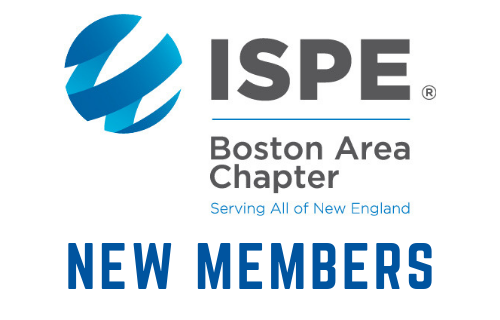 Welcome New Members August 2021!
Posted by ISPE Boston
On September 3, 2021
We would like to introduce the Members who joined ISPE in August 2021, welcome them to the Chapter and encourage them (and all of our members) to take advantage of the many professional development, networking and information resources available through ISPE. Fellow ISPE members are a terrific resource for help with everyday professional challenges. And the ISPE Membership Directory is a great way to connect with fellow ISPE members. We encourage all members, current and new, to get involved with the Chapter's many committees, educational programs and social activities. Visit our website for more information and don't forget to subscribe to our blog for up-to-date information on our industry, Chapter activities and much more. And to all of our members, we value your input, so please email us at office@ispeboston.org with your feedback and questions. We look forward to hearing from you.
Geetanjali Abbi, Alkermes
Mari-Kate Alter
Michael J. Barry, Jr., DPS Engineering
Michael Bartlett, Quartic.Ai
Jack Davis
Shaun W. Dwyer, IPS
Erik Ekwall, South Coast Automation, Inc.
April Rae Flynn, ElevateBio
Mark Gedman, Rockwell Automation
Marissa Gonzales
Cory Gonzalez, CRB
David Ross Hinkler
Rachelle Howard, PhD, Vertex Pharmaceuticals, Inc.
Colten Hughes
Erinn Jambor
Mitchell Javier
Randy Johnson, STRATEGIC SPACES
Mark K. Lenfest, DPS Engineering
Kevin Maloney, Biogen
Dylan Mcmanus
Evan Moore
Radha Muthian
Farida Neralwala, MilliporeSigma
Emma Pina, Hereva Consultants
Dariusz Raczkowski, Tufts University
Paul Rodriguez, Vibalogics GmbH
Anna Smiechowski
Dr. Danny Stout
Samuel Tsai, LSNE
Tyler James Valentin
Brian Winter
Michael Wood